I finally had a chance to try out some Pioneer Woman recipes, and surprisingly enough, neither of these are in her new cookbook that I have… however, one of them has been raved over by most of my friends (Hot Crash Potatoes) and the other is one I haven't heard anyone rave over but I love anything with lemons so I wanted to try it (Baked Lemon Pasta).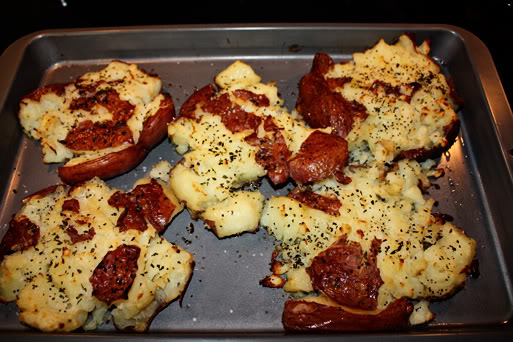 First, I tried her Hot Crash Pototoes, which were SO good. My husband picked up the red skinned potatoes and I was a little concerned because they were slightly larger then what the recipe calls for, but… my tastebuds were still happy! The recipe also calls for fresh chives, rosemary, etc., but all I had on hand was dried basil, which wasn't bad. I would love to try this recipe again with small potatoes and some fresh herbs… but, really, I can't imagine it tasting any better! YUM! I served the potatoes with a really easy Brown Sugar Porkchop recipe (put raw porkchops in baking dish, pour 1 tbsp brown sugar on each porkchop, sprinkle some soy sauce over the brown sugar, then put a dab of butter on top of each porkchop. Bake at 350 for 45 minutes or until done. So good!)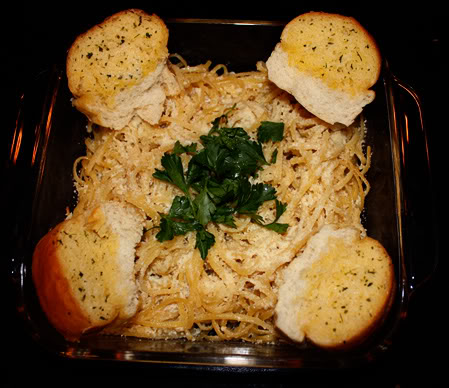 The next recipe I tried was Pioneer Woman's Baked Lemon Pasta… this pasta would be PERFECT in the Spring or Summer, but since I love lemon pasta, I couldn't wait. Every bite was grand, and I must say it is better then the other lemon pasta recipe I have in a cookbook here at home. I served it with garlic bread, but I think a nice green salad with crusty bread would be even better. I am not a big fan of chicken in my pasta, so I was perfectly happy with this vegetarian dish.
Ok, and not to brag about my AWESOME red chicken chili that I can make… but, seriously, this is the BEST chili I have ever had in my LIFE. I love, love, love this chili… this is the second time I have made it, and I made some alterations to it because last time it was a TAD bit too spicy. I am so glad I made it this second time, because it turned out PERFECT… heck, even little Miss Autumn loves her Momma's chili! Anyway, I got this recipe from a lady at my work, she won our chili cookoff with this chili… anyway, her husband actually made the chili but he sort of changed some of the ingredients from the actual recipe that was taken out of a book. Well, I figured out these changes and YAY now I can make this perfect chili anytime I wish. Seriously, YUM!!!! And, don't worry, I edited my last blog post to reflect the changes that I made to the chili just this last weekend. I just can't believe I forgot to take a picture of the final result, YET AGAIN… but, trust me, it is good.
Join Swagbucks to earn Amazon giftcards!
Earn Amazon giftcards by filling out surveys on Opinion Outpost!