I wanted to share a simple yet delicious breakfast recipe that I made on Valentine's day. You make this recipe the night before or 8-10 hours before you plan to serve it, and then all you do is throw it in the oven the next morning! Perfect for a Valentine's day breakfast, Christmas morning or… well, anytime!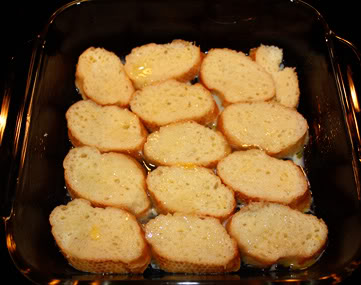 When I made this recipe, I realized I didn't have enough eggs (thanks to the cupcakes I made on Valentine's day)… boo! So I halved the recipe and did an 8×8 pan instead of the 9×13 pan. First you spray the pan with oil and layer the bottom of it with slices of french bread.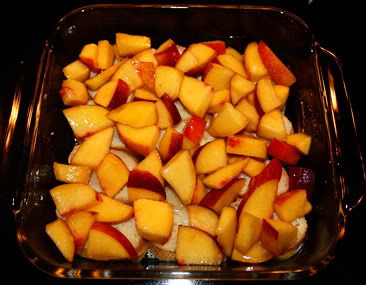 Make up the egg mixture (see recipe below), pour over the bread, then top with coated peaches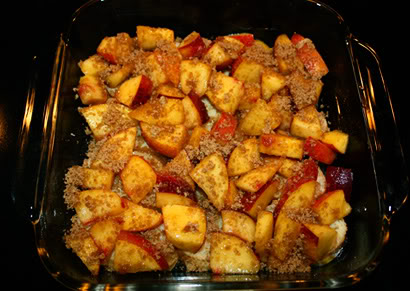 Sprinkle brown sugar and cinnamon over the top. Cover and refrigerate overnight.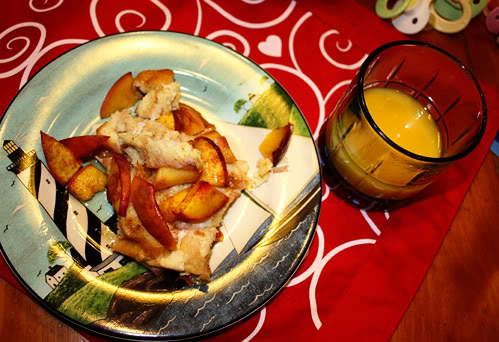 In the morning, uncover and bake for 40 minutes at 350 F. Drizzle with maple syrup, and I didn't do this but a side of Canadian bacon would go great with the sweetness of the french toast.
Here is the recipe… it is soooooooooooo good! YUM!

Peach French Toast Bake
Cooking spray
French bread baguette
4 whole eggs
4 egg whites
1 cup low fat milk
1 teaspoon vanilla extract
5 cups sliced peaches, fresh or frozen
1/2 lemon, juiced about 1 1/2 tablespoons
3 tablespoons brown sugar
1/4 teaspoon ground cinnamon
Spray a 9 by 13-inch baking pan with cooking spray. Slice the baguette into 1/2-inch slices and arrange the slices in a single layer in the baking pan. Whisk together the eggs, egg whites, milk and vanilla. Pour the egg mixture over the bread in the pan. In a medium bowl, toss peaches with the lemon juice and 1 tablespoon of the brown sugar. Scatter the peach slices evenly on top of the bread. Combine the remaining brown sugar and cinnamon and sprinkle over the top. Cover and refrigerate overnight.
Preheat the oven to 350 degrees F. Uncover and bake for 40 minutes.
Serving suggestion: Top with a dollop of vanilla yogurt, a drizzle of maple syrup and a side of Canadian bacon.
Join Swagbucks to earn Amazon giftcards!
Earn Amazon giftcards by filling out surveys on Opinion Outpost!
Another fun and fast way to earn Amazon giftcards, Superpoints!