Round two of meal planning went really, really well! I think I enjoyed the crock pot and breakfast meals the most this week, because they were the easiest! The kids really enjoyed the bourbon chicken and Brian and I loved the Avocado Black Bean Enchiladas!
So, I think I am going to start something new this week… at the end of this post I am going to share pictures from some of the meals from LAST week… sometimes a photo is all it takes for you to know you'll LOVE a recipe or that you MUST try it. After you read my menu for next week, take a minute or two to browse through these photos… and if you like what you see, last weeks meal plan post is HERE.
Menu Plan for Week of March 9, 2014:
Sunday – Imo's Pizza and their Provel Cheese Sticks!!
(We are planning a movie night with the kids… thinking Gremlins, but I'm still on the fence… I am a tad worried it may scare my 5 year old, I am sure my 7 year old would love it.)

Monday – Crabby Patties with Crinkle Fries
(Mini burgers cooked in the stove. I made these for Nathan's Sponge Bob party one year and they've asked for me to make them for dinner ever since. If anyone wants the recipe I can share it, I've made it for so long that Pinterest wasn't even around when I got the recipe. 🙂 )

Tuesday – Spinach Alfredo Crock Pot Lasagna, recipe HERE
I am loving these crock pot days, with dinner prepped in the morning and one pot to clean up at the end of dinner! This is a fairly new recipe that I have seen floating around on Pinterest and it looks really, really good! I am excited to try it out!

Wednesday – Tacos
I am going to rotate tacos every other week, because the kids eat them so well and I always make enough for lunch the next day!

Thursday – Simple, Crust-less and Easy Quiche (from my freezer stash) with Pioneer Woman's Orange-Vanilla Fruit Salad, recipe HERE
The second Tuesday of every month I share a freezer safe recipe and this quiche was one I shared a couple of months ago. I am finally pulling it out of the freezer stash and plan to pair it with PW's fruit salad from her new cookbook. Yum!
Friday – Pioneer Woman's Chipotle Chicken Chili
It is starting to warm up here, so I think this will be the last batch of chili I will make before Spring hits! I have been wanting to try PW's chili in her new cookbook, so this is my chance.

Saturday – Cilantro Lime Baked Shrimp, recipe HERE
I've never baked shrimp… but, this looks delicious and she says it makes your house smell AMAZING while you are baking it, so… why not try it… why not.

Dessert of the Week: Box Brownies (I just cleaned the pantry and found this box and I need to use it up!)

Photos from Last Weeks Meal Plan:



Bourbon Chicken, recipe HERE. My kids LOVE the bourbon chicken!


On the night that we did breakfast, I used my pancake puff pan from William Sonoma and filled the pancake puffs with blueberries and chocolate chips. The kids loved them! We also served the puffs with scrambled eggs and bacon. You can buy the pancake puff pan HERE.

I loved all of the fresh ingredients in our Avocado Black Bean enchiladas! Sorry, no after picture… recipe HERE.

And, I posted this photo last week, but this is the Pasta con Broccoli I love to make, recipe HERE.

Pioneer Woman's Carrot Cake (from her new cookbook, HERE) – this carrot cake took quite a bit of love to get it done… but, it was DELICIOUS DELICIOUS DELICIOUS!

And… this wasn't on last weeks menu, but if you are looking for directions on how to make a quickie rainbow mug cake in the microwave or how to make rainbow cupcakes, click HERE.

Thanks for stopping by and happy eats! Tomorrow I will be sharing this month's freezer meal…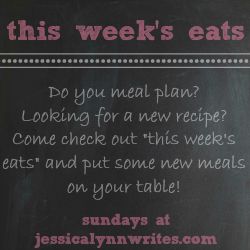 Linked up with:
Mommy Monday Blog Hop