We had a really good summer… I am sad it is over, but we are already getting into the swing of things with the new school year. This summer, I decided to purchase a St. Louis Zoo membership for our family… since we would be going with my parents, they also purchased a zoo membership. You get 6 free passes for parking and tickets to see the sea lion show, ride the train, etc. for during your trip. You also get a 10% discount on face painting, food, gift shop, etc. It was really worth it and I still have a lot of tickets left and parking, too!

We were aiming to go to the zoo EVERY week during the summer, BUT with 2 vacations and one week that we avoided Forest Park (Fair St. Louis was going on for the July 4th weekend), we made it there 6 times during the summer. We could have gone 7 times, but decided to check out Grants Farm one week. 6 visits allowed us to see the ENTIRE zoo, because the zoo is broken up into 6 colored sections on the map. This worked out great and we were able to spend a few hours before lunch exploring each area before it got too hot.

I haven't really blogged about our zoo trips, but I did post a photo or two on Instagram (follow me on Instagram HERE) during the summer. Today I wanted to share a photo from each of the sixth areas of the zoo that we explored.
Some Zoo Membership Tips:
Bring a cooler with water, juice boxes and snacks. You'll save a TON of money, because trust me… the kids will be hungry after the first hour (or 30 minutes) you are there! 

Arrive early to avoid crowds, the heat and to get good parking (the parking lot would be full after 10:30 a.m. some days!). Plus, most of the areas in the zoo that require tickets are FREE the first hour!

Use your zoo membership to get discounts (St. Louis zoo does 10% off) on food, souvenirs, etc.

We did one section of the zoo at a time, otherwise it can be overwhelming! The St. Louis Zoo has 6 different areas, so we did one area each zoo trip. You can even go back and do anything you missed at the end (especially if certain animals aren't out that day).

Some of the areas have a lot of indoor buildings, these are perfect for really hot days or rainy days

First Zoo Trip: Yellow Area – Lakeside Crossing



We saw: the sea lion show, stingrays (we missed this), duck, geese, swan and visited the Build a Bear workshop! 

The photo above show the kids by the entrance of the zoo. Then, you'll see I let them visit the Build a Bear at the zoo as a fun kickoff to the summer. In the last photo above, they are looking at the sea lions in the tank before the show started. You could tell everyone at the zoo was in great spirits with summer just starting! SO different from our first zoo trip to our last zoo trip during the summer, which was more quiet.
Second Zoo Trip: Red Area – Red Rocks
We saw: big cat country, takin, somali, antelope, camel, zebra, addax, antelope house, giraffe, okapi, ostrich, kangaroo and babirusa. 
We rode the train for the first time, got to see lazy cats sleeping and even a baby camel!
Third Zoo Trip: 

Light Purple Area

 – Discovery Corner

We saw: the Children's Zoo, insectarium and a 3D movie. 

Every zoo trip, I would let the kids have a treat such as face painting/tattoo, ice cream snack, etc. This trip was fun, because Autumn had her face painted and Nathan got a tattoo of a dragon. I am sharing a photo above from the insectarium where we saw thousands of ants carrying tiny pieces of leaves and even rose petals.The kids also enjoyed the children's zoo, especially the goat area!


Fourth Zoo Trip: Tan Area – River's Edge


We saw: black rhino, bush dog, capybara, anteater, asian elephant, hippo, red river hog, carmine bee-eater, cheetah, hyena, painted dogs, andean bear and malayan sun bear. 

The River's Edge is a nature walk and you get to see the elephants (including babies!), hippos and a lot of other animals. Pictured above I photographed a baby elephant swimming in the water and another baby is helping him get out.


Fifth Zoo Trip: Dark Purple Area – The Wild
We saw: bear bluffs, flamingo, prairie dog, red panda, jungle of the apes, fragile forest and the carousel. 

We had to go back and see the apes after we were done exploring the rest of this area, because they were cleaning their area when we first got there. We road on the carousel and my mom even got all of us together in a photo, except the kids aren't smiling (go figure!). 
Sixth Zoo Trip: Green – Historic Hill


We saw: bird house, bird garden, herpetarium, primate house, 1904 Word's Fair Flight Cage and cypress swamp. 

At our last zoo trip, most of the kids had returned to school the week prior and the zoo was DESERTED. It really made me sad, it hit home that summer was over and school was starting the next day! We really enjoyed the day and the weather was cool… it has been scorching hot here ever since school started! Here are the kids outside the herpetarium house. In the second photo above you'll see a bird we saw in the bird cage, doesn't she have the prettiest eyes? And the flowers outside of the bird house were gorgeous! I am sad summer is over and I am really looking forward to spending so much time with the kids (and my parents) at the zoo next summer!


Enough about the zoo… Are you ready for the meal plan for this week? 

Menu Plan for Week of August 31, 2014:

Sunday – BBQ Hot Dogs, Corn on the Cob and Watermelon
Labor Day weekend = Turning the Grill on! We may just enjoy these goodies while lounging in the pool!  

Monday – Eat Out
Labor Day will probably be pretty laid back, so I am going to treat myself to an Eat Out Pass!!


Tuesday – 
Shrimp and Pineapple Packets with Coconut-Cilantro Rice
, recipe 
HERE
This is a recipe I have never tried, but since the grilling days are going to be over soon… I thought I'd put it on our meal plan for this week. Plus, who doesn't love grilled pineapple and shrimp?!
Wednesday – Chicken and Dumplings with Corn on the Cob, recipe HERE
I haven't made this recipe in awhile, but it is SO easy… 3 steps and 3 ingredients! So delicious, too! I am going to serve it with corn on the cob on the side.

Thursday – Gazpacho and Grilled Cheese, recipe HERE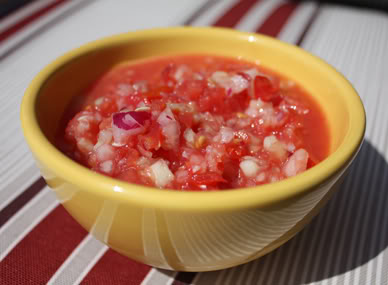 Nathan has a cross country meet across town on Thursday, so I am going to make this easy dinner one last timu all know how much I love gazpacho soup, so why not have it one last time before it starts cooling off and chili becomes my soup of choice?
Friday – Blueberry French Toast Bake (Breakfast for dinner!) with Sausage, recipe HERE
Now that I know Aldi's has blueberries for $1 a crate, why not splurge and make blueberry french 
toast?

Saturday – Spaghetti and Meatballs
Nathan loves meatballs and Autumn loves spaghetti… Nathan will eat a little of the spaghetti, but I feel better if I make it with some of my meatballs from my freezer stash, so he is getting enough to eat for dinner. Yum!

Linked up with:
Mommy Monday Blog Hop
Turn It Up Tuesday