I have been seeing a lot of 'Tour Through Blogland' posts lately and was thrilled when Carrie from
Carrie This Home
asked me if I was ok with her nominating me. Of course, I said yes! Besides having the same first name, I have always enjoyed following Carrie's blog and would love to meet her someday IRL. Carrie is a fellow DIY and I get a lot of inspiration from her posts, such post on
how to paint cabinets
(which I am thinking of doing!). She also shares simple (and delicious) recipes, one recipe of hers that is delicious is her
edible cookie dough for one
! But, my favorite part of Carrie's blog is how down to earth and honest she is… she admits that life isn't easy, but Jesus has our back. She is also a lovely sahm to two! Be sure to stop by her place to say hello and for lots of wonderful inspiration!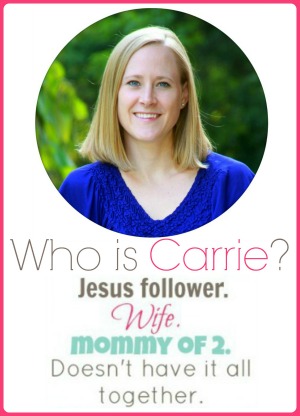 For this tour I will be answering four questions:
1) What am I working on?

I have a lot of projects in my mind that I want to start and a lot that I am currently working on! It seems there is just never enough hours in the day, especially when you are a mom to two! I am excited to wrap up the Master Bathroom project, which I have been working on for over a year! Below you will see a sampling of posts I have done during this bathroom remodel. Currently, I am looking into painting the vanity in there and I am researching options.


I enjoy making wreaths and I just finished up a fall colored wreath that I will be sharing next week. Honestly, I could almost burst with all of the fall craft ideas I have running through my head right now.

I'm planning on sharing a quick DIY tutorial on how to make your very own 'Wifey' shirt. Apparently, they are all the rage right now. 😉

I also have a once a month freezer recipe series, which has almost reached its one year mark! I am planning on doing a different theme for the next year of recipes, which I will be announcing soon.
2) How does my work differ from others of its genre?

I have a background in Marketing and Design and as a result I have a lot of knowledge with Adobe products and typography, so you'll see that I love to use a lot of photos and typography in my header photos.
3) Why do I write/create what I do?
I believe that everyone should follow their dreams in their life. When I wrote down all of my dreams and started being active in fulfilling them (no matter how silly they were), it was similar to pushing the green go button on my life. If you are passionate about something, don't let anyone else tell you different. God gave you this life, use it and be an inspiration to others. I started this blog back in 2008, when my daughter was born and it has grown with me over the years. I feel this blog is so much more then just DIY, crafts and recipes with a little fashion thrown in… it is a place where I share projects that I have spent countless hours on, a place that I take pride in. I hope to share with others that blogging can be such a great opportunity in sharing ideas, creativity, support and friendship.
4) How does your writing/creating process work?
It depends on the post, but if it is a craft post I come up with the idea, go to Hobby Lobby and then execute it while taking photos. Then, I'll take additional photos of the finished piece on a sunny day inside or outside, where the lighting is best.
I always proof read my work, I hate typos or errors. And, I always try to come up with an attractive 650×650 photo to use at the top of most of my craft/DIY posts to add visual interest… and, that size works perfectly for when I want to post it on Instagram.
For a fashion post, I usually think up the outfit a week in advance and wear it on the most convenient day. There are days where I will dress up in the outfit and then after my husband photographs me, I take the outfit right off! I do edit all of my fashion photos in Photoshop before placing them on the blog.
Aubrey from
Dreaming about Someday
My first nomination is Aubrey from
Dreaming about Someday
. Aubrey and I met during the 30×30 Challenge and then were able to meet this last Spring IRL at Mimi's Cafe! Besides fashion, Aubrey and I share our love for running.
Here is what Aubrey has to say:
hi i'm Aubrey from dreaming about someday. i'm a working girl dreaming about someday being a stay at home something. i blog about food, fashion, crafts, cakes, running, life, the bachelor, and everything in between. i keep myself busy busy busy. my nails are always painted, and i never leave the house without makeup. i love colorful things. diet coke is my fave, and i'm pretty obsessed with all social media.
____
My second nomination is for Michelle from Jarrah Jungle. Michelle lives in Australia and I have been following her blog for awhile! She is planning a trip here to the states to sightsee next year, just finished a gorgeous bathroom remodel in her home and she can host the fanciest dinner parties!

Here is what Michelle has to say: Hi everyone, I'm Michelle a first time home renovator and author of home improvement and lifestyle blog Jarrah Jungle.
By day I'm an organised office worker and by night I'm a house and home obsessed blogger!
I live in a 1960s house in suburban Western Australia with my hardworking partner affectionately known as Mr P and our rescue dog Lexi.
Mr P and I are renovating our home inside and outside, doing most of the work ourselves and learning as we go. I write about everything house and home – from decorating ideas, DIY projects, to lots of ugly befores and pretty afters of our renovations.
When the paint brushes are down I write about my love of entertaining, throwing dinner parties and sharing delicious recipes.
I'm also a regular book reviewer sharing my book reviews from my girls only book club The Tuesday Girls and reviewing books for Netgalley.
Thanks so much to the lovely Carrie of Curly Crafty Mum for inviting me on this blog tour from all the way across the other side of the world! It's great to be here!!
____
Becky from
Choose Happy
My third nomination is for Becky from Choose Happy. Becky and I got to know each other from Instagram (my newest addiction). I have been enjoying her vacation photos on the lake this summer and every week I enjoy seeing her 'What I Wore' on her blog.
Here is what Becky has to say:
HI! I'm Becky. I wear many hats… Mom, Wife, Marketing Coordinator by day, lover of DIY, born & raised Wisconsinite! I love to encourage others to be happy & by doing that it reminds me to be happy myself!
My blog is Choose Happy. This October, I will have been blogging for 1 year! I love to share about my favorite DIY projects, travel, fashion, holidays, thoughts on Happiness & Choosing Happy and of course, my family! I am enjoying writing in my blog each week & can't wait to see where my blog takes me!