Disclosure: This shop has been compensated by Collective Bias, Inc. and its advertiser. All opinions are mine alone. #ProPlanPossibilities #CollectiveBias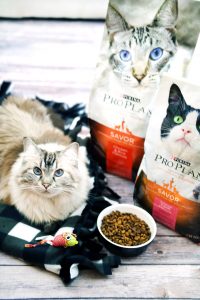 We've had Rose, our sweet rag doll cat for several years and she truly is a blessing to our household. During this time of year, it is easy to get busy and distracted. Rose tends to be picky about flavor and texture, yet I still want to provide her with the perfect formula for her dietary needs, such as with Purina® Pro Plan® at PetSmart. I'll be sharing 5 Ways to Keep Your Cat Safe During the Holidays, because your pets still need your full attention even during this busy season! I want to make sure Rose is getting the food she needs and that she stays active and doesn't get bored and into trouble.
5 Ways to Keep Your Cat Safe During the Holidays
1 – Provide Your Cat with the Correct Formula for their Dietary Needs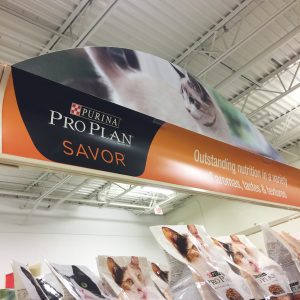 Purina Pro Plan provides nutrition that performs in a variety of wet and dry products formulated for taste preferences, age, dietary considerations or activity/lifestyle in four platforms for cats.
Purina Pro Plan has purpose-driven recipes, available in grain-free or no corn, wheat or soy options to satisfy picky eaters, supporting cognitive health and more. They also offer a Prime Plus 7+ variety for cats.
Backed by a team of over 400 Purina scientists, including nutritionists, behaviorists and veterinarians, each of our platforms offers outstanding nutrition. It makes me feel good as a cat owner, that no ingredient is unnecessary—everything is precisely and purposefully selected.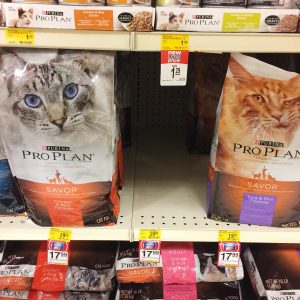 I prefer Purina® Pro Plan® SAVOR® for my cat, because it has outstanding nutrition in a variety of aromas, tastes and textures. Rose has always been picky about taste and texture. She also sometimes prefer one flavor over another, so it is important to her to have a variety of flavors in one pet food. Even though she is picky, I'm happy that she will live a healthy and active life with the correct nutrition that Purina Pro Plan SAVOR gives her. It pleases me that real poultry or fish is the #1 ingredient in all dry formulas.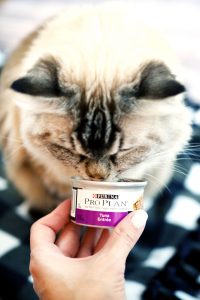 Rose enjoys dry and wet food, so I am glad that Purina ProPlan offers her both varieties. There are over 20 different flavorful wet entrees that are protein-rich, with accents like pasta, rice, cheese or vegetables. 
And, all formulas provide omega fatty acids for a healthy skin and coat.
You can Save on Purina Pro Plan at PetSmart:
In-Store:
Pro Plan dry cat food 5.5-7lb bags – Save $2
Promotion runs through 11/30/17. Earn 10 kicks by watching an educational video. Earn 50 kicks for scanning the barcode on select Purina Pro Plan cat food, dog food or treats product. Earn 200 kicks for purchasing select Purina Pro Plan products and submitting your receipt.
2 – Shop at PetSmart for Products to Keep Your Cat Healthy & Safe
The holidays are a busy time of the year, but when I stop into my local PetSmart I know that I can get all of my shopping done easily and quickly. PetSmart is a one-stop shop for all of your pet's needs. They have seasonal merchandise and toy/treat collections to help you spoil your pet in style. PetSmart offers kind helpful employees and products that will help keep your cat active and healthy!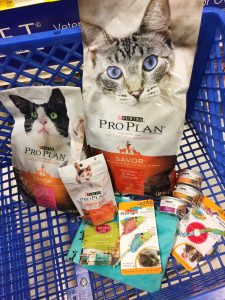 Our shopping cart at PetSmart is always full of Purina ProPlan items and some fun items!
3 – Cat Proof Your House and Find Appropriate Toys for your Cat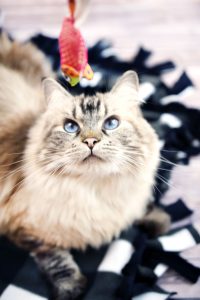 Rose thinks she is a dog. She loves to run around, be held and she even likes to chew on things. I need to be careful when selecting toys for her and I also need to keep the house safe for her. Sometimes I feel like it is similar to having a 3 year old, I need to make sure there is nothing out that she may chew on and/or eat! During the holidays, you may bring home new decor or household items that your cat may be curious about. Since our cat enjoys chewing on fake plants, we need to make sure that Rose isn't around them or that the plant is spayed with something that will make it taste bitter. I make sure that Rose has proper toys that are safe for her to chew on, so that she isn't as easily tempted.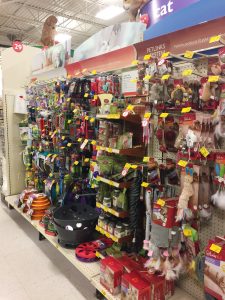 PetSmart offers an entire aisle of cat toys and some of them are specifically for cats that enjoy chewing.
4 – Treats to Reward Good Behavior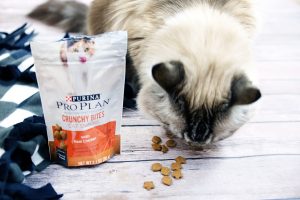 It is important to reward your cat when they show good behavior. Rose is crazy about the ProPlan Crunch Bites treats which are available at PetSmart.
5 – A Safe Place to Hide/Rest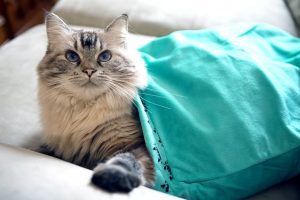 Sometimes the holidays get to be a little too much for your cat! It is important to have a quiet and safe place that they can retreat to if they are overstimulated. Rose loves her little crinkly pillow case. She can lay on top of it or hide inside it.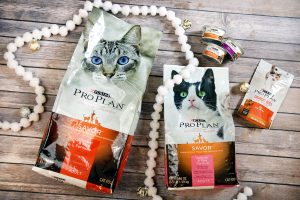 What you choose to feed your pet is so much more than just a brand or a collection of ingredients to make them purr. Purina Pro Plan understands your pet and that every pet in unique and requires a specific diet.
You can discover which Purina Pro Plan food is right for your pet through the Pro Plan University website, which will tell you which variety it recommends and why it is right for them.
Go HERE to find a variety of amazing tutorials to help you spoil and engage with your pet, while learning more about the ProPlan brand.
SaveSave
SaveSave
SaveSave
SaveSave
SaveSave
SaveSave
SaveSave
SaveSave
SaveSave
SaveSave
SaveSave
SaveSave