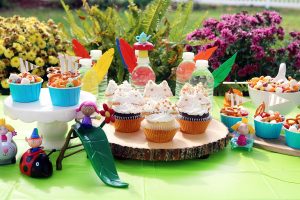 Today I am sharing a Ben & Holly's Little Kingdom Birthday Partyscape, because we all know this is such a popular TV series right now on Nick Jr. TV. For this partyscape, you'll see I'm serving Gold and White Sugar Cookie Crown Cupcakes and a Colorful Rainbow Snack Mix that are easy to whip up, colorful and the perfect birthday treat for preschoolers. I've also included some of the adorable new Ben & Holly figurines that are available only at Target.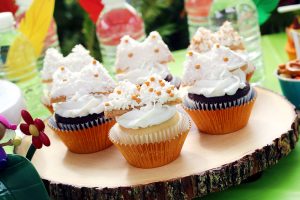 If you haven't introduced your preschooler to the Ben & Holly's Little Kingdom TV series yet, let me tell you a little bit about this magical show:
A young fairy princess named Holly and her best friend Ben Elf, love in the Little Kingdom. This is a tiny land where flowers and grass grow above the tallest flowers! Holly has magical powers, but her attempts at magic often go awry. Her fairy teacher, Nanny Plum has been helping Holly with her magical powers. Ben is always there to help Holly when her spells don't go as planned, but he doesn't possess any special abilities. Ben is quite handy, so the two of them work fairly well together. Holly and Ben go on many adventures in this colorful cartoon and have lots of friends, including Gaston the Ladybird. 
Gold and White Sugar Cookie Crown Cupcakes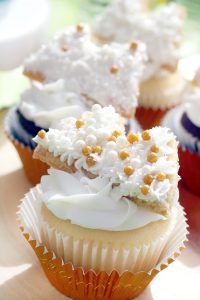 If your child loves elves, fairies, etc., they will love this show! Planning a birthday party tablescape for this show was really easy. Since Holly is a princess, I decided to add some adorable sugar cookie 'crowns' on top of some delicious cupcakes.
Ingredients:
Sugar Cookie Dough in the Roll
Cupcakes with Plain White Icing
Gold Cupcake Liners
Gold and White Sprinkles
Extra White Icing
Directions:
Rolled out a few sheets of cookie dough (the kind you can buy in a tube at the grocer) and bake it according to the instructions on the package.
Once it is done baking, pull it out of the oven and take a knife and cut out the shape of the crowns. (It will be easy to cut the cookie while it is still warm, so you'll want to do this quickly!) The crowns are pretty easy to cut out freehand, but you could draw them on a piece of paper and cut them out and use that as a template if that would make it easier.
Once the sugar cookie crowns have cooled, ice them and then decorate them with gold and white sprinkles.
Place the crowns on top of the cupcakes.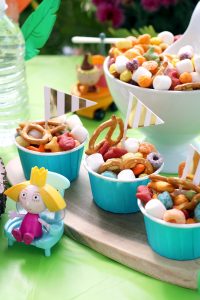 I enjoy serving a trail mix along side the cupcakes at a birthday party. Ben & Holly's Little Kingdom is such a colorful show, just bursting with color… so, I decided to go with a Colorful Rainbow Trail Mix to serve at the party. I served the trail mix in little individual cups.
Colorful Rainbow Snack Mix
This trail mix is so colorful and will definitely make a presence on any birthday tablescape. It is sweet and a little salty… the perfect savory combination!
Ingredients:
Trix cereal
Fruit Loops cereal
Colors Goldfish crackers
Mini marshmallows
Pretzels
Directions:
Mix together. Serve in individual cups.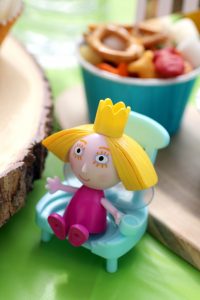 These adorable Ben & Holly's Little Kingdom figurines that are new at Target are the perfect accent for your table. Plus, they can also be favors for the kids to take home after the party!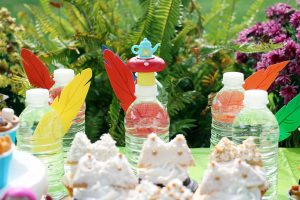 For a kids party, I usually prefer the mini water bottles for drinks. You don't have to worry about drips or spills and dressing up a water bottle is so easy! I found these foam feathers and hot glued them to the back of each water bottle.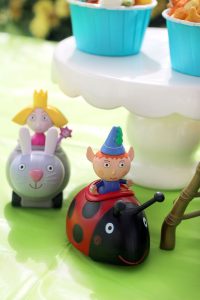 I hope I've given you some ideas for your Ben & Holly's Little Kingdom birthday party. It really is such a beautiful and magical show!
Find inspiration for Ben & Holly's Little Kingdom projects as well as news, competitions and upcoming events by checking out the Ben & Holly's Grown Ups page.
Thank you Grand Communications for sponsoring this post. All opinions are 100% mine. 
SaveSave
SaveSave
SaveSave
SaveSave
SaveSave
SaveSave
SaveSave
SaveSave
SaveSave
SaveSave
SaveSave
SaveSave