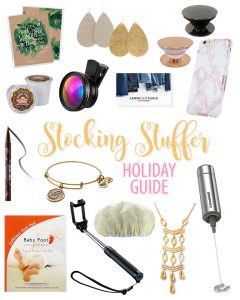 Hey everyone! I have been looking forward to this post for awhile now! I am joining several other of my blogging fashion friends to share our Holiday Gift Guides with you AND a HUGE Nordstrom Gift Card GIVEAWAY!! Be sure to stop by and view everyone elses Wish List and enter the Giveaway below!
---
---
Today I am sharing a Holiday Gift Guide for some great stocking stuffer ideas! This holiday guide has a mix of tech, beauty and fashion ideas. I will also earn a small commission if you purchase any of these, so THANK YOU if you do make a purchase! I told my husband that ANY of these would be great in my stocking… LOL. 🙂 So, let's hope he stops by the blog today! 😉
Erin Condren Watercolor Wreath Cover in 7×9″ Size, Personalized with First/Last Name – As most of you know, I have an EC planner and I love using it to organize all things with the blog! I would love to have a holiday cover for it.
Nickel and Suede Leather Earrings in Champagne Simmer or Matte Gold (Small Size) – I have been wanting a pair of light weight leather earrings for awhile, I've been seeing a lot of bloggers wear them. These earrings come in small, medium and large… I think I would prefer the small or MAYBE the medium size.
Pop Socket (Knock Offs) in Gold and Black – I have been wanting to try out a Pop Socket on my phone and I really like these Amazon ones that are interchangeable. 
iPhone 6 Plus Case in Rose Gold Marble – This inexpensive neutral case would look great with my interchangeable Pop Socket.
Donut Shop Sweet & Creamy K Cups – These are the ONLY K Cups I have found that taste just like a cup of coffee with creamer in it, yet I don't need to add any creamer. They are just the perfect flavor! I can't find these in the store and I am out, so I thought they'd make a perfect stocking stuffer wish list item! 🙂
Wide Angle Lens for Cell Phone – I would really like to try one of these out, since I'd like to start taking more 'outfit' selfie pictures.
American Eagle Gift Card – I recently purchased FOUR pairs of jeans from American Eagle Outfitters and I LOVE them. Unfortunately, I'm not rich and couldn't shop anything else in the store! I would love a gift card!
Kat Von D Tattoo Liner in Mad Max Brown – I need a new brown eyeliner and this one was highly rated on Sephora. The tip of the liner is very precise, so perfect for a winged/more controlled line.
Alex and Ani Initial C Charm Bangle – I have been seeing these Alex and Ani bracelets EVERYWHERE and I'd love to have one! I just hope it fits my skinny wrist!
Baby Foot Exfoliant – I tried this out last August and I liked it SO much, that I am going to do this every season to keep on top of my feet and to keep them baby soft! If you plan to buy this and want some tips on how to get it to work the best for you, send me an email! There are definitely some tricks, which I found out from a little online research!
Selfie Stick – My current selfie stick is old and doesn't work anymore, so I need a new one. Again, I want to use it for 'outfit' selfie photos for the blog.
Shower Cap – I have the most ridiculous shower cap right now! It has cartoon frogs on it with pink bows! I can't even remember where I got it at. I would really like a 'grown up' shower cap and this one is lined with terrycloth, so it absorbs the moisture from the shower and will leave your hair exactly how it was! It is from DryBar.
Kimberly Knockoff Necklace – Stella & Dot had a Kimberly necklace that I have been wanting and they don't carry it anymore. SO, I did a little research and found a knock off of this necklace.
Milk Throther – I have been wanting a milk throther! This one comes with a little case, so it won't get dirty when you store it away. I would love to use this to make my coffee in the morning a little more special or it would even be nice to glam up a cup of hot cocoa this winter!
Hope I've helped you with some Stocking Stuffer ideas! Don't forget to stop by the other Holiday Guides for more ideas and to enter the Nordstrom Giveaway!
SaveSave
SaveSave
SaveSave
SaveSave
SaveSave
SaveSave
SaveSave
SaveSave
SaveSave
SaveSave
SaveSave