#advertisement I received compensation from Dr. Scholl's® to write this post. All opinions are entirely my own. #CustomFitRelief #DrScholls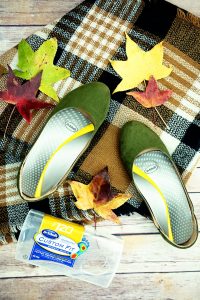 The fall is such a busy time and I feel like there are days where I am in motion from sunset until my head hits the pillow at bedtime! My feet always get so tired and I'm always looking for ways to take care of them, especially in the fall! Today I'm going to share with you some tips on How to Take Care of Your Busy Feet this Fall, including how Dr. Scholl's® Custom Fit® Orthotics provide immediate and all day relief for your foot, knee, or lower back pain from being on your feet.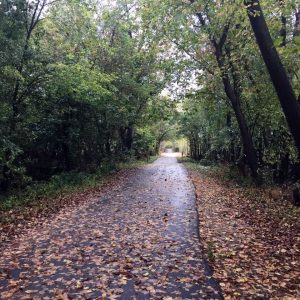 I am a long distance runner and in the fall my training amps up for the current race I am training for and my feet can feel so tired after I complete my long run for the week! When I was in Walmart, I discovered the Dr. Scholl's® Custom Fit® Orthotic Inserts kiosk. In 2 minutes, it found the perfect insert for my shoes to give me a little added comfort and padding throughout the day!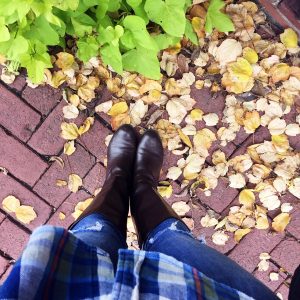 Besides running, I also enjoy a lot of fall activities that require a lot of walking. My friends and I have a tradition to go to a historic district in our town for shopping and lunch. We walk on cobblestone streets all day. Of course, I want to wear a cute pair of boots, yet I don't want to cause discomfort for my feet. With Custom Fit® Orthotics, you get the custom support and cushioning you need to disperse your foot pressure and reduce the pain-inducing stress on your knees or lower back. This is another reason why I love Dr. Scholl's® Custom Fit® Orthotic Inserts!
How to Get Fitted at the Walmart Custom Fit® Kiosk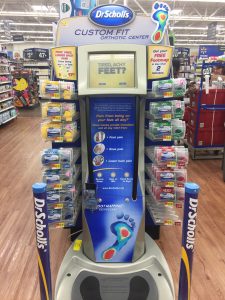 Near the pharmacy in my local Walmart, I found the Dr. Scholl's® Custom Fit® Orthotic Inserts kiosk.
Dr. Scholl's® developed the advanced FootMapping® technology used in the Custom Fit® kiosk. It uses over 2,000 pressure sensors to create your Custom Footmap – identifying your arch type, foot length and unique pressure points. In under 2 minutes, I knew which Custom Fit® Orthotic Inserts were right for me!
To get started, you will remove your shoes and stand on the two footprints at the base of the kiosk.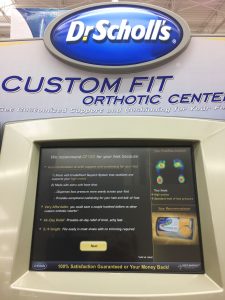 Once I stood on the Kiosk, I could see the pressure my foot was making via the screen. It had me hold onto the bars in front of me as I balanced on my left foot and my right foot. Once it was done, it displayed the final screen which told me which product it had selected for me.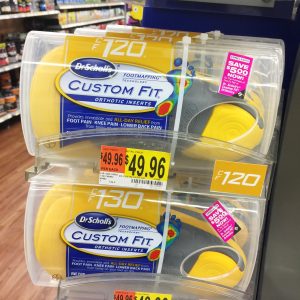 It told me information about my feet, such as my feet having high arches. It recommended the CF120 for my feet.
You can now Try Custom Fit® Orthotics risk-free, with the Dr. Scholl's® Money Back Guarantee!
Plus, save $10 on your purchase!
Find a Custom Fit® Kiosk near you and get the recommended insert for you in under 2 minutes.
How to Take Care of Your Busy Feet this Fall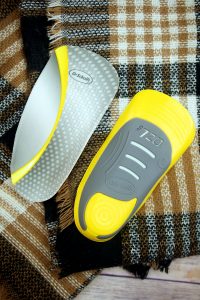 1. Use an insert, such as Dr. Scholl's® Custom Fit® Orthotic Inserts
Custom Fit® Orthotics are comprised of 4 layers, each providing a different benefit. Together, these layers provide support and cushioning that are custom fitted to your feet, to immediately relieve foot and lower body pain and provide you with all-day comfort.
2. Foot Massage
You can have your husband or someone else give you a foot massage. Or a simple water soak will help your tired feet feel better. Water Soak Directions: Soak feet in cold water for 5 minutes. Soak feet in hot water (tolerable temperature) for 5 minutes. Soak feet in cold water for 5 minutes and then dry off.
3. Stretching
Stretch out your calf to help relieve any tension several times a day.
4. Appropriate Shoes
Make sure you are fitted by a professional that can measure your foot and suggest the correct shoe and shoe size. You may want to shop for shoes in the afternoon, as feet tend to be larger at this time of the day. You'll also want to break in your new shoes slowly and carefully.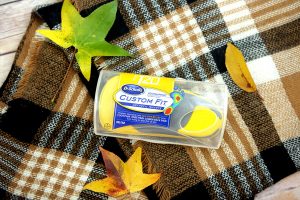 What fall activities make your feet tired? Thanks to Dr. Scholl's® Custom Fit® Orthotics, you can get through long days without lower body pain, because they are an effective solution for foot, knee and lower back pain.
SaveSave
SaveSave
SaveSave
SaveSave
SaveSave
SaveSaveSaveSave
SaveSave
SaveSave
SaveSave
SaveSave
SaveSave
SaveSave
SaveSave
SaveSave
SaveSaveSaveSave