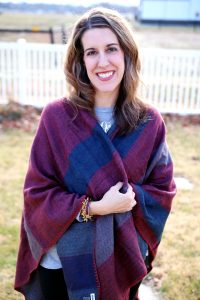 I just received my sixth FabFitFun box and I am thoroughly pleased! This gorgeous mulberry poncho came in it along with a lot of other wonderful items. So many of my friends that get FabFitFun boxes agreed that this box is definitely a favorite!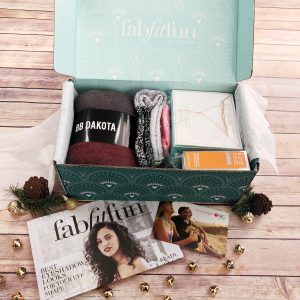 This is the only subscription box I have going right now and it is plenty! I receive a box every season and it is packed full of a variety of items, such as jewelry, makeup, stationary, home decor, apparel, etc. The box is $49.99 each quarter, but you can save 20% on it today using my code HERE. I just signed up for the yearly membership, that way I can have more control over what colors, etc. they send me.
Goodies Inside 2017 Winter FabFitFun Box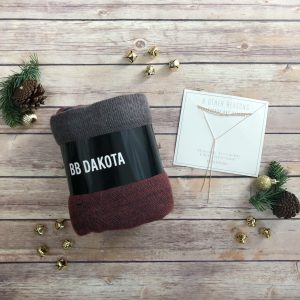 BB Dakota Poncho in Mulberry – $70.00
This poncho is reversible and perfect for layering. You can wear it with a belt for a different look.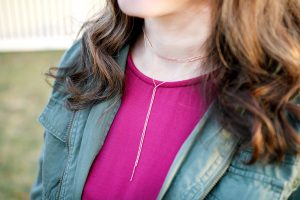 8 Other Reasons Nine Lives Choker in Rose Gold – $58.00
This simple and dainty choker will go with a plain white tee or a dress with a plunging neckline. In the photo above, I'm wearing it with a bright colored swing dress.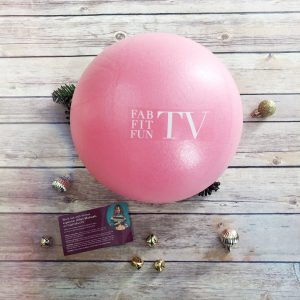 FFFTV Fitness Ball with Jillian Michaels Videos – $16.00
I just love Jillian Michaels and I workout to her 30 Day Shred once a week! I am really excited to try these workouts that involve using this ball! I love variety!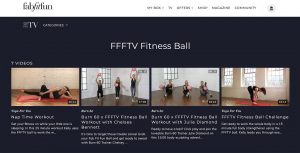 You can find the FFFTV Fitness Ball site HERE. I am excited to try out some of these workouts, especially the Yoga one! Has anyone tried any of these yet and which ones do you love?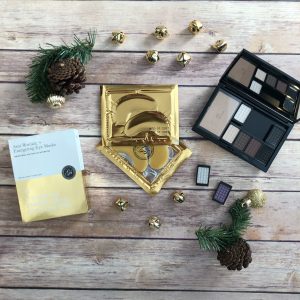 Grace & Stella Anti-Wrinkle Energizing Eye Masks – $16.00
I have tried one of these eye masks and WOW! They really did freshen up my eyes… I definitely noticed a difference!
DOUCCE Freematic Eyeshadow Pro Palette in Smokey – $70.00
I am just in love with this eyeshadow palette, I've been using it more than my Urban Decay palettes! There is a burgundy shade in the palette plus a shimmery gold and it has been working with a lot of my winter and holiday outfits! What is really neat, is that these colors are magnetic and you can move them around or snap them out of the palette! What a great idea for if you run out of a color and need to refill it.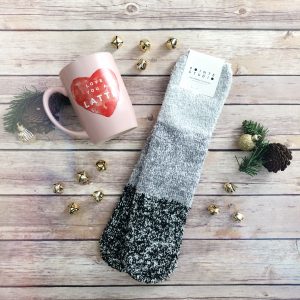 Homemade by Ayesha Curry Ceramic Mug – $16.00
I was really excited to receive this particular mug, because it will be great for Valentine's Day. I love that it is oversized!
Pointe Studio Aloe Infused Cozy Socks – $19
I was excited with the color I received for these socks, because neutrals are definitely my jam! I love that these socks are aloe-infused and the aloe lasts for 25-30 washes! I'll definitely be wearing these while I catch up on my Netflix shows!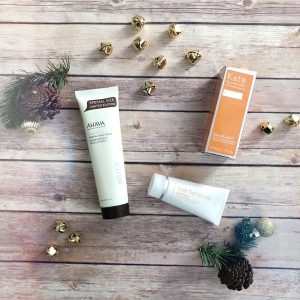 AHAVA Mineral Hand Cream – $33
The winter is such a perfect time for FabFitFun to include a hand cream! This mineral one has been keeping my hands nice and soft and I've been trying to put it on once in the morning and before bed. It is full of minerals from the Dead Sea, witch hazel and allantoin.
Kate Somerville ExfoliKate Intensive Exfoliating Treatment – $75
I keep this tube in my shower and I put it on my face a couple times a week while I'm showering. WOW, you can definitely feel it working! It has papaya, pumpkin and pineapple enzymes in it. It has been the perfect skin polish for me!
Total Retail Value of Box: $373.00!! Isn't that amazing?!
I was really, really pleased with ALL of the items in this box! I will definitely continue this subscription! I am always see excited when it arrives. To find out more about FabFitFun, click HERE.
*Affiliate Links
SaveSave
SaveSave
SaveSave
SaveSave
SaveSave
SaveSave
SaveSave
SaveSave
SaveSave
SaveSave
SaveSave
SaveSave
SaveSave
SaveSave
SaveSave
SaveSave
SaveSave