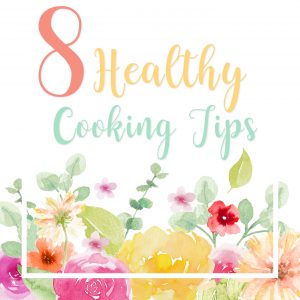 Eating a delicious meal can be one of the greatest pleasures of life, especially when the food is cooked well and you enjoy it with wonderful friends and/or family. But, if you can prepare a delicious meal with healthy ingredients, your family/friends can get even more enjoyment out of it! Taking a cooking class is an effective way to learn how to make unique dishes for yourself or your family. Oftentimes, instructors of cooking classes give students ideas as to how they can make their meals more nutritious.
Consider Eight Easy Tips You Can Use to Cook Healthy Meals for your Family and Friends:
Drain the Fat Off Ground Meat or Fried Bacon


Whether you're cooking ground beef for hamburgers or frying bacon to serve for breakfast, you can make each of these items healthier for your family. Once the ground meat is done cooking, tip the pan to one side allowing the excess fat and grease to drip into a separate container. Also, when you're finished frying bacon, put the pieces on a plate that's covered with a paper towel. The paper towel will soak up the excess fat and grease. Getting rid of some of the fat from meat and bacon can instantly make each dish healthier to consume.


Substitute Apple Sauce for Oil


Cooking oil is a common ingredient in baked goods such as muffins, cupcakes and cake. Cooking oil is high in fat which contributes even more calories to a plate of baked goods. So, to make baked goods healthier, substitute applesauce for cooking oil. Applesauce has fewer calories and gives baked desserts the right amount of moisture, so they taste just as good!


Use Low Fat Cheese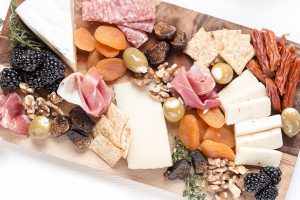 Cheese is an ingredient in thousands of recipes. Cheese has a high amount of fat which adds to the richness of the recipe. Next time you cook something that has cheese in its list of ingredients, try substituting low fat cheese for regular cheese. The dish will still have the taste of cheese without the added fat. I'll be sharing a salad recipe on the blog soon, where  I substituted low fat cheese for regular cheese in order to make it healthier. We also love picnic dinners in our house, so I sometimes will hit specialty grocery stores, because they have a good variety of low fat cheeses that I can add to our cutting board!


Substitute Greek Yogurt for Sour Cream


Do you like to make different types of chili and thick soups? Sometimes these call for a garnish of sour cream. If you make a low-calorie chili or soup, you are adding calories to it by putting a dollop of sour cream on the top. So, substitute plain Greek yogurt for sour cream to make your low-calorie soup or chili a healthier dish.


Use Very Little Oil in a Recipe


Some recipes call for a couple tablespoons of olive oil or canola oil. These oils contain a lot of fat. A simple trick to reduce fat in a recipe that requires oil is to cut the amount of oil in half. This little adjustment can add up to healthier meals.


Use Fat-Free Milk Instead of Whole Milk


Lots of recipes require a cup or more of whole milk. Some examples include pancakes, rolls, casseroles and more. To make these and similar recipes healthier, use fat-free milk instead of whole milk. As a result, you get the moist, delicious dish you're going for without the added fat of whole milk.

Use Vinegar as Salad Dressing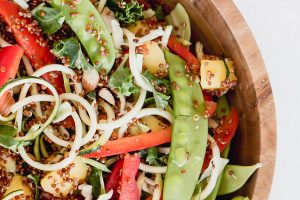 Cream, whole milk and oil are ingredients in many thick salad dressings. Using these types of dressings can counteract the healthy ingredients in a beautiful salad. So, instead of making a thick salad dressing, put some apple cider vinegar in a salad dressing bottle so your guests can sprinkle it lightly onto their salad. Or, add it to your salad creation yourself before serving it.


Select Spaghetti Squash Over Noodles


Give your family a dish full of fiber, vitamin A and potassium by substituting spaghetti squash noodles for pasta. Spaghetti squash can be shredded to look like pasta and it has a nut-like flavor which complements many types of sauce. Also, it can give your pasta dishes some added color which makes them even more appealing to your guests.


An Idea for Team Building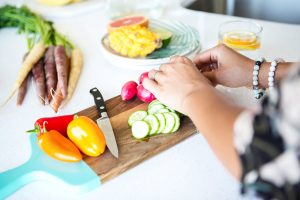 Participating in a cooking class given by local chefs can help you learn dozens of tips for preparing healthy meals. Plus, taking a cooking class can be a great team building activity for a department within a company or all the employees working for a small business. Learning to divide up tasks, then work together to make a recipe successful is can benefit the bottom line of any business. There are many companies that offer either of the options but in case you are looking for national company with both personal and business cooking class options, you can check Cozymeal.

 Finally, local cooks sometimes provide catering services to offices as well as individuals. This helps them to show off their culinary talents and build a reputation for preparing healthy, delicious meals. Whether you want to boost your own cooking skills or prefer to order meals from a professional chef, it's easier than you think to find enticing, healthy dishes to enhance your diet.
SaveSave
SaveSave
SaveSave
SaveSave
SaveSave
SaveSave
SaveSave
SaveSaveSaveSave