This shop has been compensated by Collective Bias, Inc. and its advertiser. All opinions are mine alone. #SchwarzkopfGliss #blissofGliss #CollectiveBias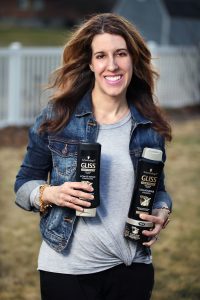 It is already March and ALMOST Spring, but is your hair still suffering from all of the over styling from holiday parties you attended last year and from the dry and frigid temperatures from the winter? Well, today I'm going to show you How to Get Your Damaged Hair Back on Track with Schwarzkopf Gliss™ Ultimate Repair from CVS Pharmacy. These products replace the Keratin (10 layers deep!) your hair loses over time and gives your hair added strength and makes it oh, so smooth!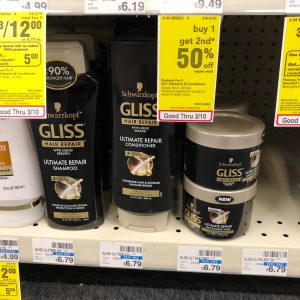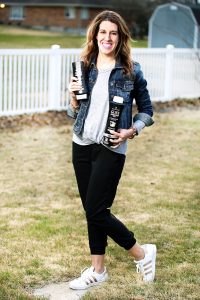 Gliss will be on sale for 2 for $10 – Buy One Get One Free! This is the perfect opportunity to try this product and to stock up!
(Event runs from Sunday 3/11 – Saturday 3/17)
How to Get Your Damaged Hair Back on Track
One – Use Ultimate Repair Shampoo, Conditioner and Anti-Damage Mask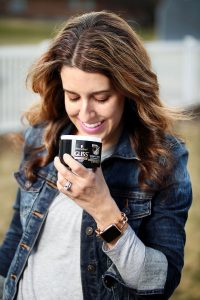 I enjoy taking care of my hair and I want it to be as healthy as it can be! Gliss has helped me to replace the Keratin that I've lost over time, especially after I over styled my hair during the holidays and with all of the dry air that winter brings. The patented technology repairs up to 10 layers deep, replacing lost Keratin for beautifully strong and smooth hair. What I love is that I can use Gliss everyday, not just when my hair needs a pick me up.  Since your hair can lose Keratin various ways, you can keep your hair at its best by using Gliss regularly. You may not know your damaging your hair, but brushing, hot styling tools, sunlight, water (salt/chlorine) and chemical treatments (coloring, bleaching and/or perming) can be hard on your hair!
Two – Wash Your Hair Less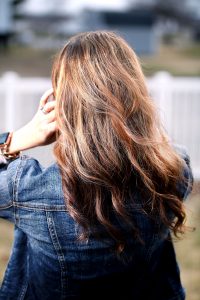 I am definitely at fault with washing my hair too often! I wash my hair once a day, mainly because I run several times a week. Now that I'm running less mileage and doing more weights and yoga, I can probably get by with washing my hair every other day. I know a lot of women go 2-3+ days in-between washing and I am amazed by that. My hair is really oily, but I've heard it gets less oily if you wash it less and dry shampoo can help a lot. Washing your hair less can be a great time saver, but it can also leave your hair a lot healthier!
It's amazing that water can be damaging to your hair, but the same thing that cleans our hair also damages it! Salt water and even chlorinated water are the worst offenders. Every time you get your hair wet, your color fades and leaving your hair wet for too long can cause the hair to sweat, which can cause splits and breakages. Water is the number one reason why you can still find that your hair is breaking or has split ends even if you never blow-dry your hair.
Three – Air Dry or Use Protective Heat Spray When Styling
I almost always let my hair air dry, but if I can't do that I will spray my hair with a protective heat spray before blow drying my hair and especially before I use hot styling tools on my hair. Did you know that when using a flat iron, you should never go above 400 degrees Fahrenheit? Hair, like paper, begins to melt at about 451 degrees! Scary, right? You really need to stay within the 300's, depending on your hair type and if your hair is color treated or damaged.
Four – Try a Silk Pillow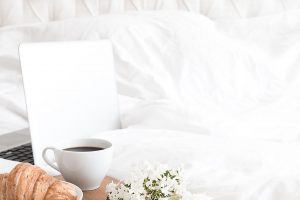 Silk pillows are all the rage right now, they're great for not just your skin… but, your hair! It is smoother on your hair, reduces frizz and stops those pillow creases from forming.
Five – Be Careful with Hair Accessories and Wearing the Same Hair Style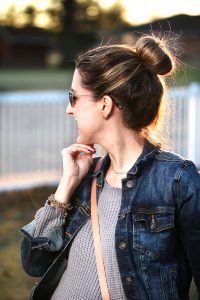 Elastics are not the gentlest on your hair. They snag and cause breakages, especially at the ends of your hair where it's weaker.
Here's a tip to make these bands and accessories safer to use. When you're removing them from your hair, spritz them with the Schwarzkopf Fiber Therapy Leave In Conditioner Spray and also spray some on the ends of your hair. The bands and clips will slide right out, plus you treat your hair at the same time. It's a win-win.
I'm known to wear the same hair style day after day. Tight hairstyles are the worst for your hair, especially if you place a hair band (for a pony tail or bun) in the same place daily. This will cause a ring of breakage around your hair.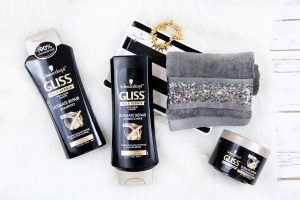 Ultimate Repair Shampoo & Conditioner won the Allure Best of Beauty Award for best shampoo & conditioner for damaged hair. And, the Ultimate Repair Masks won Product of the Year – Most Innovated Hair Treatment of 2018. The Ultimate Repair Masks also won People® Beauty Award for Best Hair Mask in 2017. It's no wonder why these products are so popular!
Look no further, be sure to check out Gliss® Hair Repair™ to give your hair the keratin boost it needs before you head into the Spring!
Be sure to follow the Gliss™ Hair Repair Brand on Facebook, Instagram and YouTube.
SaveSave
SaveSave
SaveSave
SaveSave
SaveSave
SaveSave
SaveSave
SaveSave
SaveSave
SaveSave
SaveSave
SaveSave
SaveSave
SaveSave
SaveSave
SaveSave