Happy Friday Everyone!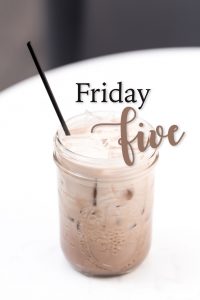 Can you believe it's been exactly ONE month since I've done a Friday Five? Life has been so busy with the kids home from school that I have a whole page written down of blog ideas and I just don't have enough time to execute them. I do know that in the fall, I am looking forward to decorating my new kitchen and working on some DIY/crafts and other home decor projects that I haven't had time for this summer. But, let's not rush the lazy days of summer… 🙂
One – Kitchen Reno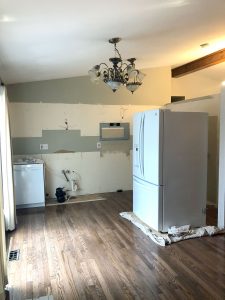 Our kitchen has been under construction ALL week! The kids and I have been hanging out at my parents house during the day, it is so much easier. And, I've been off cooking duty and we've been grabbing the salad bar, sandwiches and pizza from Fresh Thyme (healthier choices and great prices!). I thought about showing some photos of the progress, but I think I'm going to save them for another post. The photo above shows what our kitchen looked like on Monday. We did have one problem come up, the cabinet store that we are using measured one cabinet wrong and they have to rush order/build that one cabinet to get it done quickly. It'll take 2-3 more weeks, but they think they can still do the countertop template before then, to keep things rolling. I'm hoping to find that out tomorrow.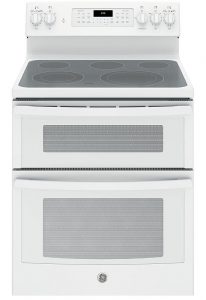 Brian and I also decided to order a new stove/oven sooner than later and decided upon a double oven. The one we ordered is pictured above. Isn't it beautiful? Our old stove was the original to this house when I purchased it in 2003 and the sellers did not leave it in the best condition. So glad to finally toss it. I'm hoping to share a Kitchen Update #2 post early next month and then in the early fall I hope to have it all decorated for a Kitchen Reveal post. 🙂 It sure is looking beautiful already! They put the farmhouse style sink in today and the crown molding… ahhh. true LOVE.
Two – Dance Nationals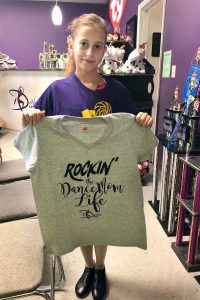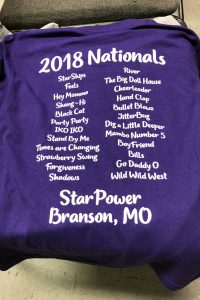 We are going to Branson soon for my daughter's dance nationals. Keeping my fingers crossed that she does AH-mazing and has the best experience from it! We are planning on doing a couple of things as a family while we're down there. I got my first #dancemom shirt and the dance school ordered 5 different colored shirts (with different designs) for them to wear each day! I love this purple shirt, because it has all of the dances that the girls are performing on the back of it.
Three – Some Products I've Been Loving
Sonic Foundation Brush Head for your Clarisonic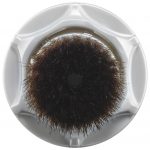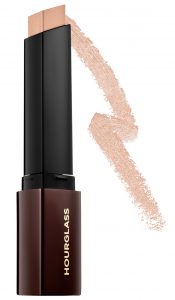 Shop These Items:

I was on the fence about purchasing and trying out this foundation brush head blender attachment for my Clarisonic. But, WOW!! It is a keeper! I received the Hourglass stick foundation for free in one of my Influenster boxes and even with the brush they sent, it didn't go on my skin very evenly. The Sonic Foundation Brush really helped! I'm excited to try it with my regular foundation after I finish up the Hourglass. You attach it onto your Clarisonic and the brush is very gentle and comfortable on your skin while it blends your foundation on perfectly. It really helps blend your foundation around your chin area, too, which can be a tricky spot.
Mad Love Prudence Footbed Sandal in Rose Gold (available in other colors)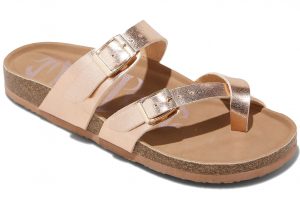 Shop This Item:

I was wanting to get a pair of Birkenstock sandals, but the price just wasn't in the budget for this month. I started looking on Target and I saw that they had something very similar and in rose gold! I thought I'd check out the reviews, because the worst thing for me is to find a deal on a pair of shoes/sandals and then they make my feet scream in pain. I was relieved to find out that these sandals have almost 500 reviews at 5 stars and they are all praising these shoes! Fits true to size, your foot molds into the bed of this sandal… and rose gold? Yes, these went straight into my cart!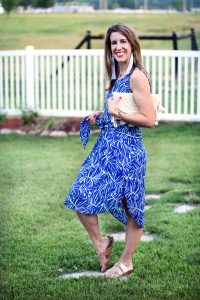 Shop This Item:

In my last outfit post, you'll see me wearing the Mad Love Prudence Footbed Sandals. These will definitely be on repeat all summer long!
Free People Intimately Lace Bralette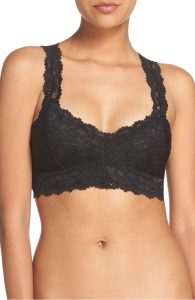 Shop These Items:

I ordered this black lace bralette as an add on with my last Stitch Fix box and I loved it so much, that I ordered another white bralette (same brand and style) from Nordstrom! It's comfortable, just a little sexy and I love wearing it under oversized tee's, summery dresses, etc. It's only $20!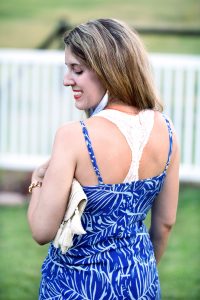 Shop These Items:

Here is the white bralette under this midi dress. I love the extra layer that it adds and it's a lot less bulkier and more comfortable than a strapless bra!
Amazonian Clay 12-Hour Blush from Tarte in Paaarty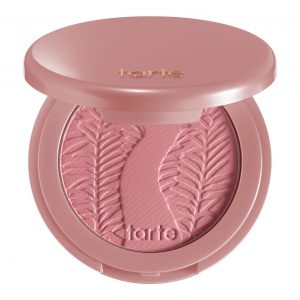 Shop This Item:

I can't remember exactly how I received this blush for free, but I believe it was my Sephora birthday gift last year. I just used it all up and I ordered another one in the same color, Paaarty. I just love this blush! This color is a nice everyday color, it's natural with just a little pigment and it goes on nicely. I want to try out some other shades in it eventually.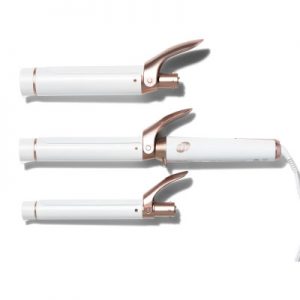 Shop This Item:

And, finally… I just want to rave on my t3 curling wand again! It works well with my naturally curly hair. It smooths it out and I can style my hair with a little wave. One thing I've noticed with it, though… it's WONDEFUL at smoothing out my hair and keeping it smooth all day… but, curls don't seem to hold as well with it versus my old curling iron. So, if I want to do a curly do I may need to do some research and see if I need to increase the heat setting or what. This wand will heat up pretty hot, so I'm a little nervous to use it on the full setting… I have fine hair, not thick… so, I don't think I'll ever use the hottest setting on it. But, man… nothing else has smoothed my hair out as and I like the little bit of curl I can add, so that my hair isn't stick straight when I'm done. Does anyone have one of these? I'd love to hear how it works for you.
Four – FASTer Way to Weight Loss Results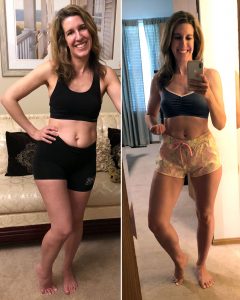 Earlier this week I shared my FASTer Way to Weight Loss review and progression photos! This is a 6 week program and I started it, because I had seen so many great results with some other bloggers. This is seriously the only program that has worked in helping me to melt the fat off my belly and tone it. You follow her nutrition plan and a series of daily workouts. I loved it so much, that I decided to sign up for another 6 week session to keep myself on track for the summer. After I do a 2nd round, I can join her VIP Group, which sounds like a lot of fun… you get different workouts each week, a monthly theme, etc. I've really been enjoying the program so far! You can learn more about the program HERE and see my post HERE.
Five – Grandma, Mom and Daughter Mall Trip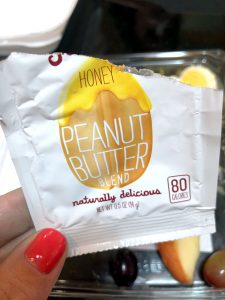 Shop This Item:

My kitchen has been under construction and we've been hanging out at my parent's house. We went to the mall on Tuesday and I got one of those Starbucks protein boxes, since Monday/Tuesday are low carb days for me. It has fruit in it and a small raisin bread thing, but it's still pretty low carb with the hard boiled eggs, cheese, peanut butter, etc. I had never gotten one of these protein boxes before, but what I loved the most in it was the Justin's Honey Peanut Butter– all  natural! I've always been a Peter Pan girl… but, I've been wanting to move to a cleaner peanut butter that still tastes good. We were in Fresh Thyme a couple of days later and they sell these packs at the store 4/$5.00 for on the go and they also sell it in a jar. I picked up some of the individual packs, so that I could try out some of the flavors before investing on a big jar of it. I'd love to hear in the comments if you have a favorite natural peanut butter. I also saw at Fresh Thyme (this is a new organic grocery store in St. Louis and I LOVE it) that you can actually MAKE your own peanut butter in the store! I want to try that as well. I am crazy about peanut butter… seriously, when I was pregnant with both kids I was even more crazy about it.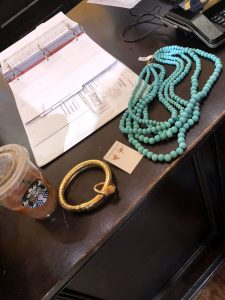 Shop This Item:

Autumn is so cute these days… she's still little girl, but she's also turning into a big girl and loves stores like Justice and any store with clothes or EARRINGS. 🙂 We went into Francescas and she picked out a cute pair of flamingo earrings. And my sweet mom said she never buys anything for me, so she let me pick out a turquoise beaded necklace (I've been wanting one for so long!) and a fun gold key ring.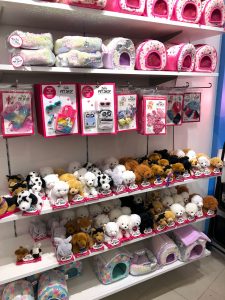 Then we went into Justice and… she's all about the pets at Justice. Grandma got her a pet, clothes and a little carry case/kennel. Lucky girl! Hope we have lots more girly shopping trips in the future! 🙂
I hope everyone has a good weekend!