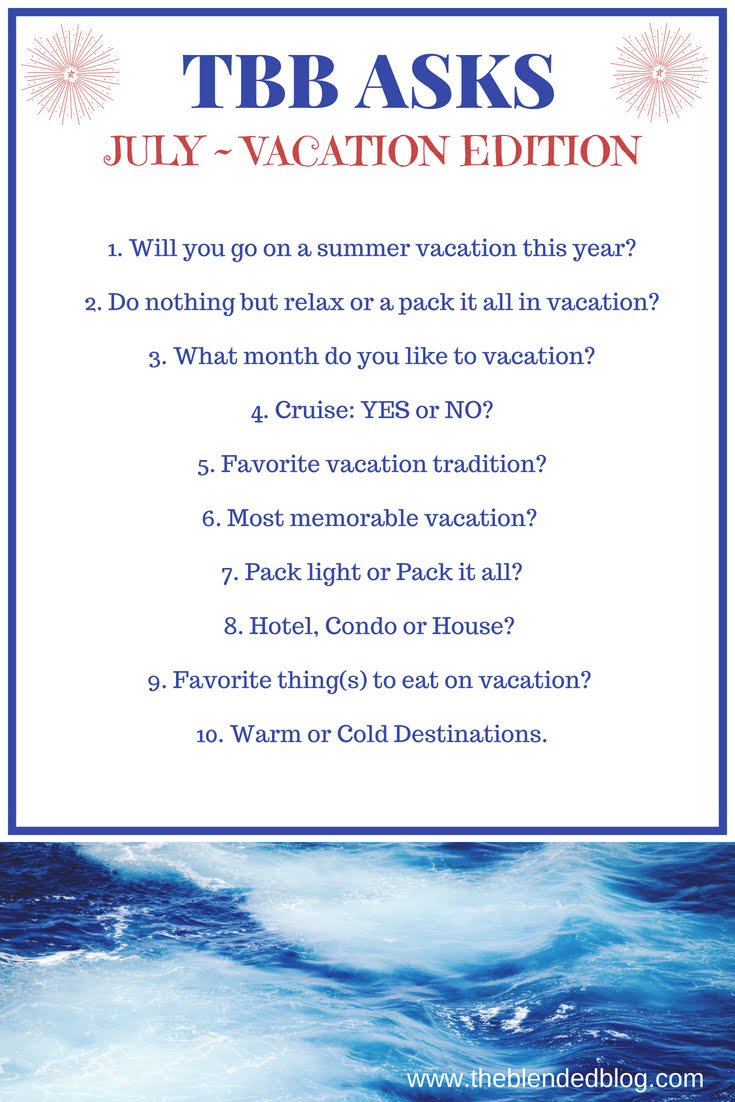 It's been a couple of months since I've joined the The Blended Blog ladies for one of their fun TBB Asks, so I was excited to be able to get this post up today.
Will you go on a summer vacation this year?
We've been on two vacations this summer so far (Cancun and Branson, MO) and we have one more vacation in Charleston, SC for the Haven blogging conference.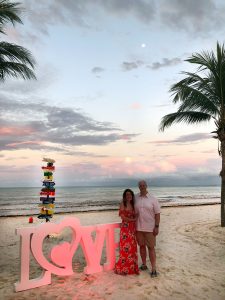 Sunset Beach Dinner in Cancun
Do nothing but relax or pack it all in on a vacation?
Oh gosh… USUALLY our vacations are pack it all in, especially since it seems a lot of them have been to big cities, for races, Europe or Disney. But, Brian and I have taken a couple of relaxing beach vacations to the Secrets Maroma resort the last two years and it has been so nice to just relax instead of doing a death march everyday.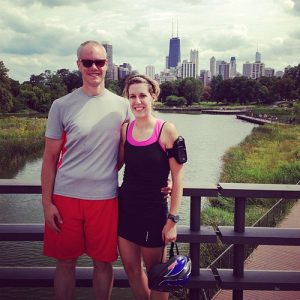 Bobby's Biking Tours, a 4 hour food and beer tour that Brian and I did in Chicago. 
What month do you like to vacation?
I used to love to vacation in August, on my birthday week. But, now that the kids go back to school so early, it's hard to do that week. I usually prefer July, because then we have a month to get accustomed to the lazy days of summer. And, then we have most of the summer to look forward to the vacation, rather than it being over at the very beginning of the summer. Planning a vacation is a lot of fun for me! I find that if we do a vacation in the summer, we have less chances of someone getting sick during it, since the summer is our healthier months.
But, I think when the kids get older and aren't in school anymore, I'd love to try vacationing during different times of the year. Brian travels a lot for work and I can't join him, because a lot of the times it is when the kids are in school. He went to Spain last year and I didn't get to go with him and he used to go to Seattle a lot (which I've never been to), so maybe in the far future I'll get to join him for a work trip.
Cruise: Yes or No?
Yes!!! I love cruises! I went on a couple before the kids were born and Nathan was actually conceived on a cruise! Ha! I would love to go on another 7 day cruise, the last two cruises I've been on were with Royal Caribbean. I'd be up for trying a Disney cruise.
Favorite vacation tradition?
My favorite vacation tradition that we have is that we go with the kids to Disney every other year. Next summer is when we'll go again and we've taken them to Disney a total of 3 times!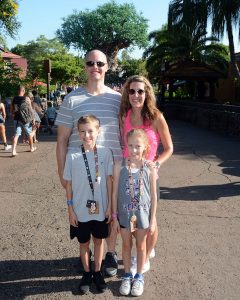 Disney 2017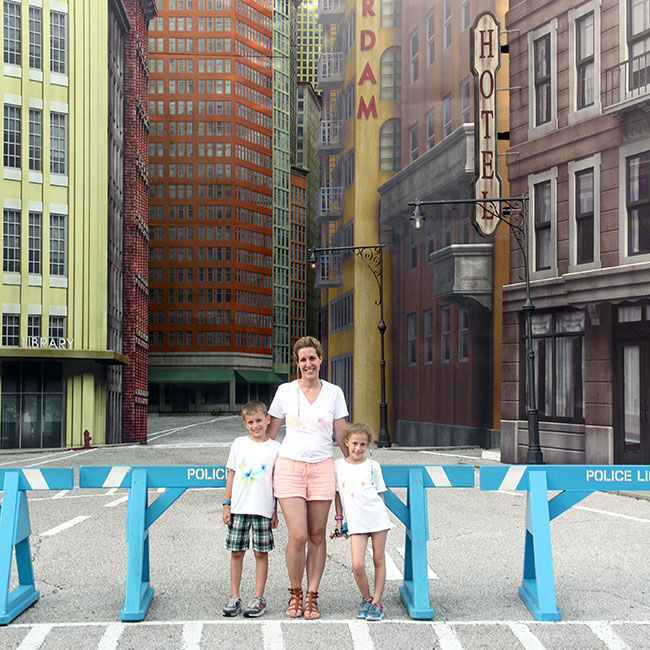 Disney 2015 (I made us tie dyed Mickey Mouse shirts)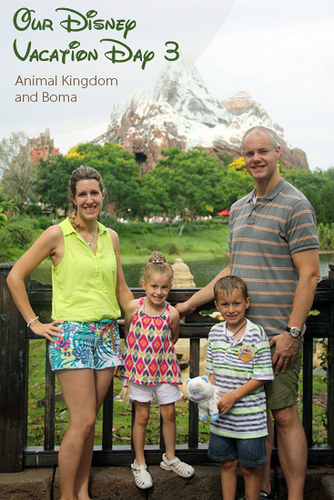 Disney 2013 (Ignore the writing on the photo, I couldn't find a copy without it!)
Most memorable vacation?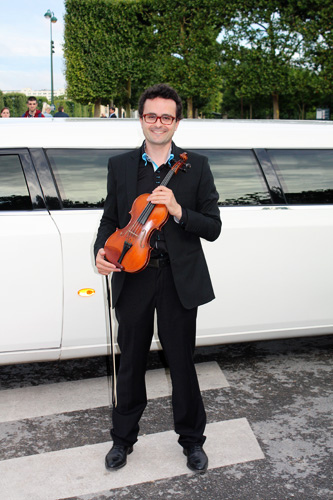 Brian proposed to me in Paris, it was also my first European vacation! We will be married 6 years this October. He whisked me away in a limo and it stopped in front of the Eiffel tower. A violinist waiting for me once I stepped out of the limo and he started playing our song. Brian got down on one knee and…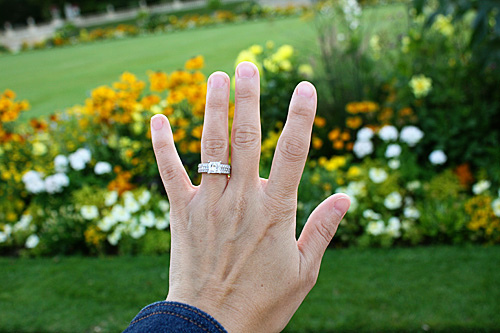 And put this sparkly ring on my finger. Now, if I would have had ANY clue… I would have had my nails painted!!! Ahhh!!! I'm so much more fashion savvy these days, I seriously was not 6 years ago! LOL! Fashion blogs have helped me SO much! 🙂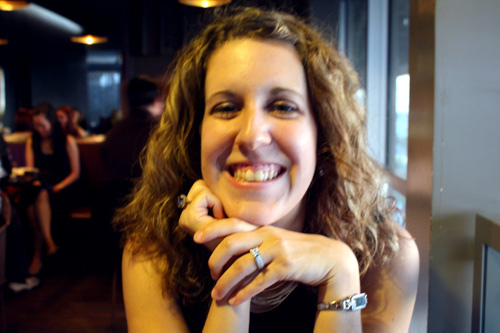 We had dinner reservations in the Eiffel tower… I was just giddy at dinner. P.S. This is my natural hair… well, not the natural color, but my natural curl. I get highlights, but normally my hair is a dark ash brown color.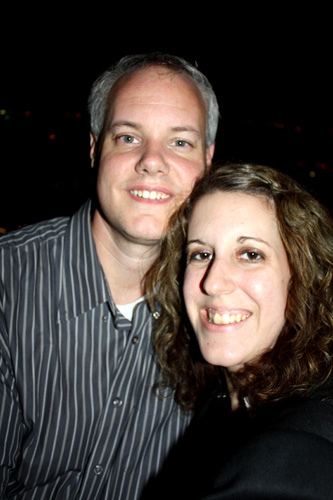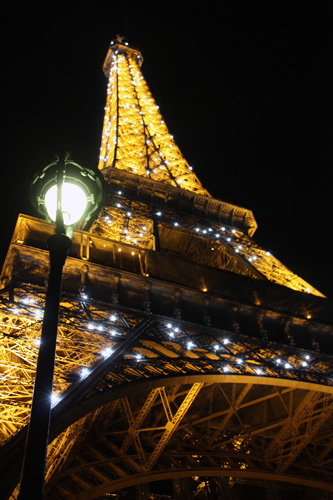 We went to Paris in August and the weather was very fall like… Here we are on top of the Eiffel tower. 🙂
Pack light or pack it all?
I'm pretty much a pack it all kinda girl… but, after my luggage got lost for an entire day on my trip to Cancun… I may rethink my packing. Because, some destinations do not have certain things you may need easily available and it can put you in a real pickle. For instance, the shop in our Cancun resort didn't have women's deodorant, a contact lens case, etc. Or underwear!! I also had some irreplaceable jewelry (not real gold or anything, but pieces that aren't carried anymore that I had received as gifts, etc.) and it really made me think about how I would have felt if my luggage had been lost for good. I wouldn't have been able to replace those items. I think I may be planning a carry on for our next trip via plane and we'll be putting a little of everyones clothes in everyones checked suitcases. I never thought the airline would lose my luggage, especially on a direct flight… but, if it happened to me, it can happen to anyone!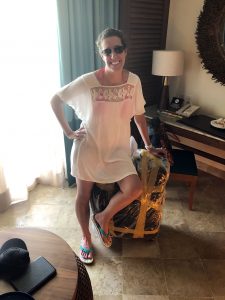 Me… with my luggage after it arrived at our resort a day late! I was SO happy!
Hotel, condo or house?
I'm really up for anything! If staying on a beach, I really prefer a condo with a washer/dryer and a little more room. A house/cottage is always nice for rustic trips in the mountains or that are more woodsy. 
Favorite thing(s) to eat on vacation?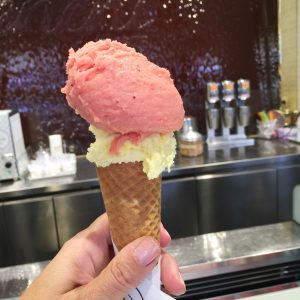 I really love scallops at little hole in the wall places when we go to the beach. I love key lime pie in the gulf. In Italy, I loved the pizza that you can to roll up to eat and wine… fresh tomatoes and mozzarella. Oh, and the fresh desserts that some of the restaurant owners whipped up that same day to serve to you. The photo pictured above is gelato in Florence, there was an entire wall of chocolate flowing behind the counter (you can see it in the photo). Paris, I was all about the crepes and delicious stews. In New York I had my first bubble tea, which they don't really have in St. Louis (unless I'm missing it), although I was not a fan of New York pizza (we tried a few places). Chicago, I love the deep dish pizzas and hot dogs. Cancun… can we say margaritas? In St. Louis we have our provel cheese (you gotta love it on everything if you live here) and toasted ravioli. 🙂
Warm or cold destinations?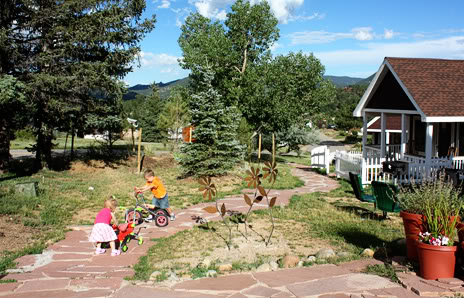 I'd say warm. Although, I'd love to do an Alaskan cruise. I'm not big on skiing, well, I've never tried it… I'm just more about the fun in the sun! The photo above is the last time I was in Colorado. The kids were so small! We stayed in a cottage outside of Estes Park. It was so fun! They even had bikes and tricycles for the kids. This is about the coolest place I've been temperature-wise for vacation. 🙂