Autumn is just as excited about Nathan's train table as she loves to pull herself up on it so that she can see what is up on it. And, you know what her second favorite item is? Sigh… Nathan's potty chair. If she isn't crawling to pull herself up on his train table, she is crawling to pull herself onto his potty chair. Then, if I am not in the same room as her (still has her separation anxiety) she crys and crys and crawls down the hall looking for me. This is just really something… two kids mobile…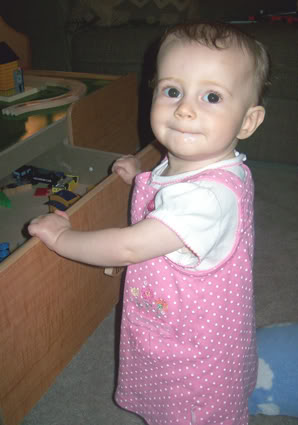 Miss Auttie enjoying her brother's train table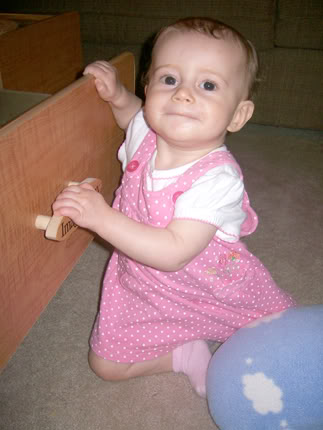 She can also open the drawer. She likes to open it because her favorite pass time right now is throwing things on the floor. She could do this alllll dayyyy lonnng.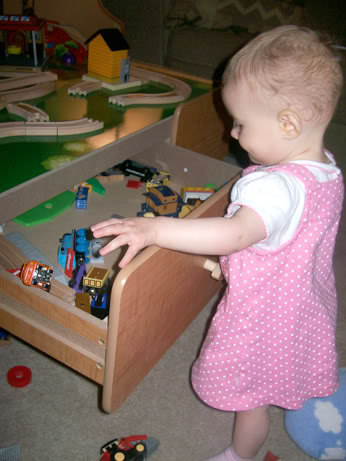 See that Hot Wheel that is in mid-air in this picture? Yeah, that among other cars, trains, etc. are scattered all over my floor.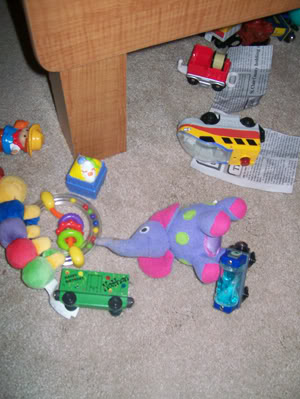 Messy, messy girl…
She also started to patty cake this week, it is sooo cute to see her clap. She keeps one hand still and then moves her other hand to clap it against her hand that is still, but she misses 90% of the time. Just so cute! I love her so much!
Nathan is such a big boy, he is now peeing and pooping on the potty every day. I am off a week from work in August and I think we will do the last step in that we are going to start having him wear underwear to bed. I am just SO ready to finish up the potty training! He has done so well for a boy!! I hope Autumn is this good when her time comes… especially since she is already loves sitting on the potty! heheh!!!
Tomorrow I am exploring another park with my friend Kelly. Can't wait! And, it is still in the 80's here… Just unbelievable!!
Oh- and did anyone that reads my blog sign up for Swagbucks using my link below? I have a new friend that is earning me Swagcodes and her name is Chris. The great thing about Swagbucks is you earn Swagbucks when anyone that signs up under you earns them. Is Chris anyone that reads my blog?!! If so, thank you, you've earned me 12 Swagbucks already!!!
Earn Amazon giftcards by searching the web with Swagbucks!