Today I wanted to take Nathan to the Wales West Railway, because I saw on their website that they offer train rides from 10-5pm daily. However, we got there at 10:30am, and there was noone in site and it was closed. This place is a little strange as it has train rides, but it is also a RV park. Yes, strange… we were going to do the alligator farm tomorrow, but decided to do it today since it was only 5 miles away.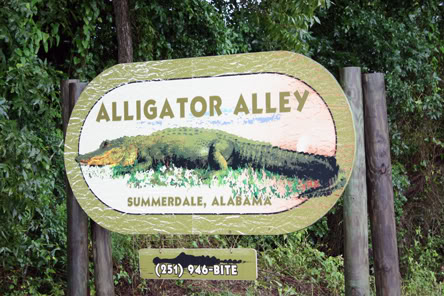 Alligator Alley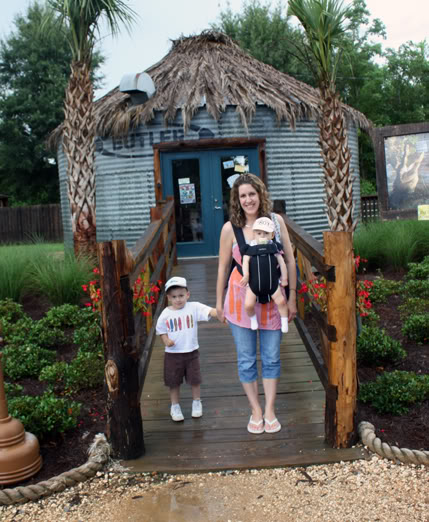 We are ready to go in… there was a lot of rain and thunder on our way there, but luckily both kids fell asleep in the car so we waited it out.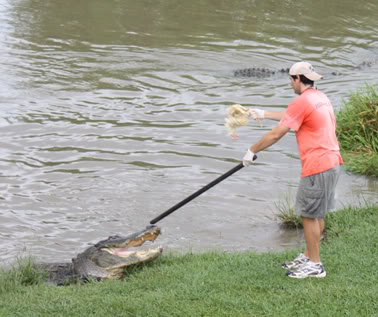 We made it in time for the feedings, which… YUCK… they threw WHOLE feathered chickens in… YUCK, yuck!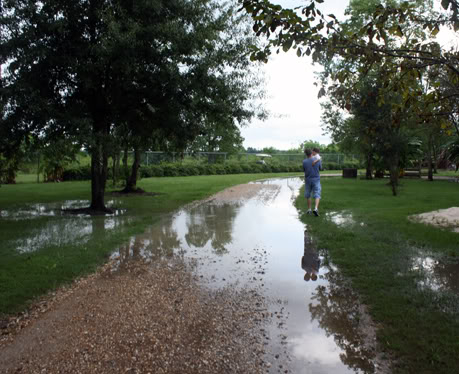 The trail was SO wet because of the rain…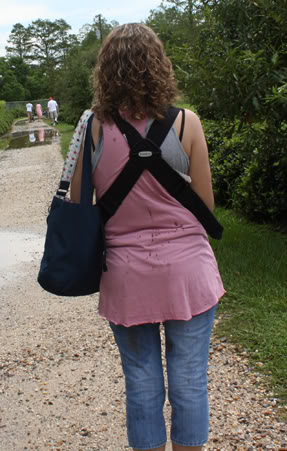 My flip flop got stuck in the mud and when it got unstuck, I flung mud all over my back, and over my head onto Autumn's hat! lol! I felt like a little piggy in a pig sty!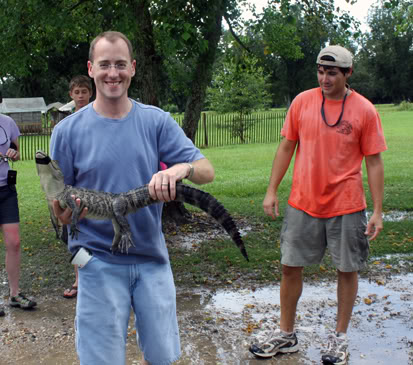 Jeremi got to hold an alligator whose mouth was tied shut with electrical tape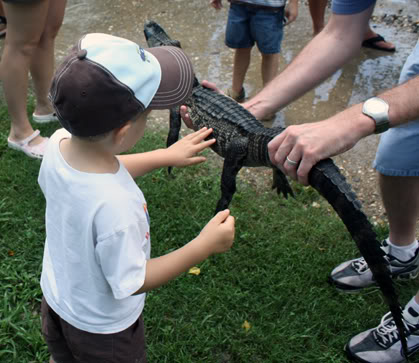 Nathan pet it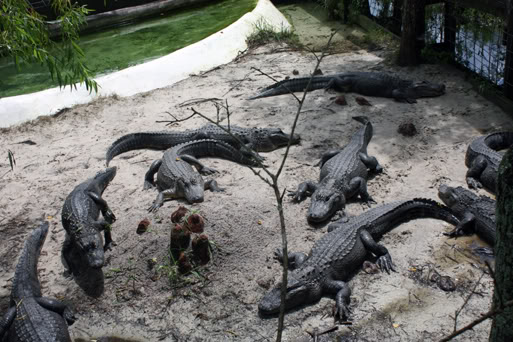 Lots of friendly alligators… I had no idea until today that alligators HISS when they aren't happy.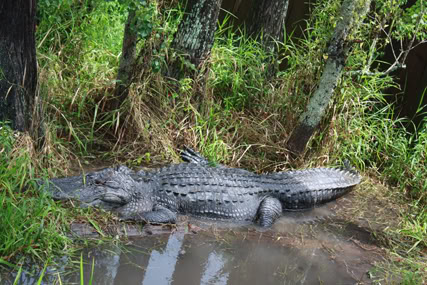 Captain Crunch alligator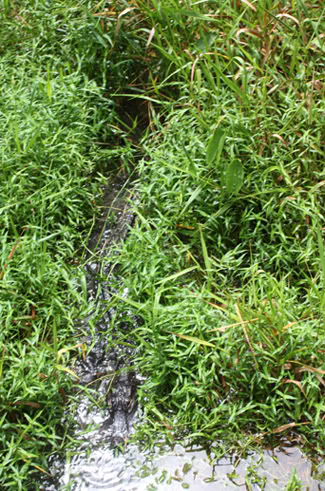 Sneaky alligator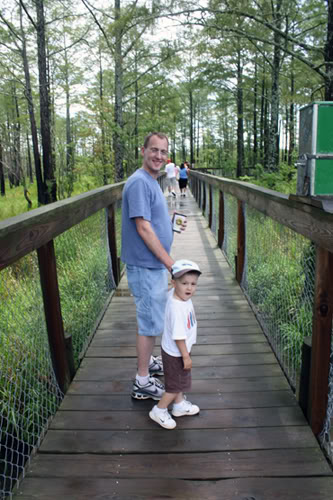 We went on this wooden bridge that went on and on and the alligators were below us. I seriously have NO idea how they repair or fix this bridge with all of those gators hiding in the murky water and tall grass! Eek!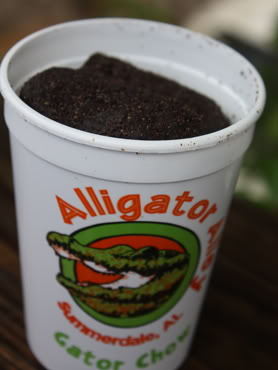 Turd looking things that they gave us to feed the alligators with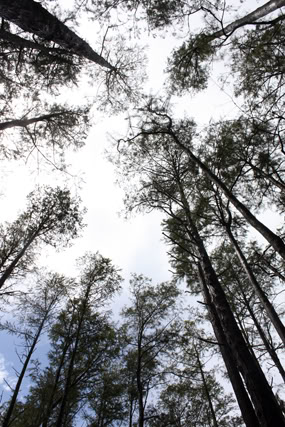 Pretty trees
After Alligator Alley, Jeremi wanted to drive back to the West Wales Railway to see if it was open. We got there, and again, the place is empty… but, low and behold, a lady came out and said they'd give just us a personal train ride. She told me they are looking into getting Thomas the Train at their site and that the Thomas lady was coming by Saturday. She said they mailed her a 50 page manual of what they have to do on their end to get Thomas at their site. She told us they get their main business on weekends, and they do a haunted train ride as well as other things such as field trips/birthday parties, etc.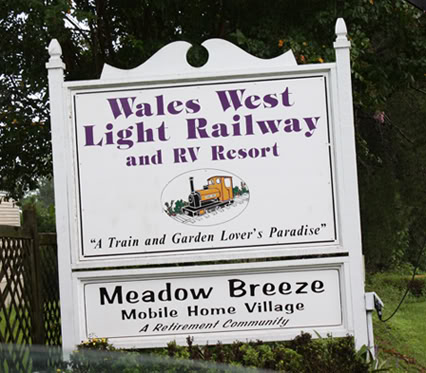 Here is the sign, and, yep, there is an RV park next to it.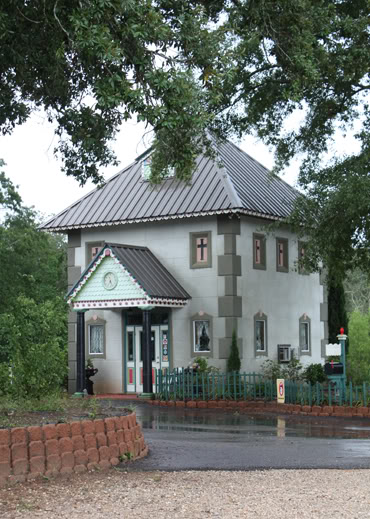 Cute building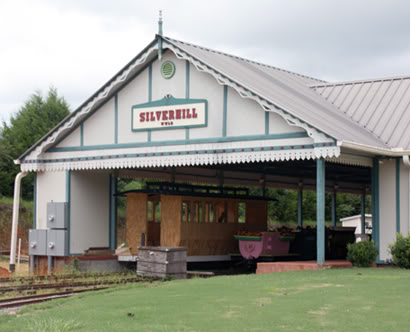 Diesel Engine train and Steam Engine train. We got to ride on the Diesel train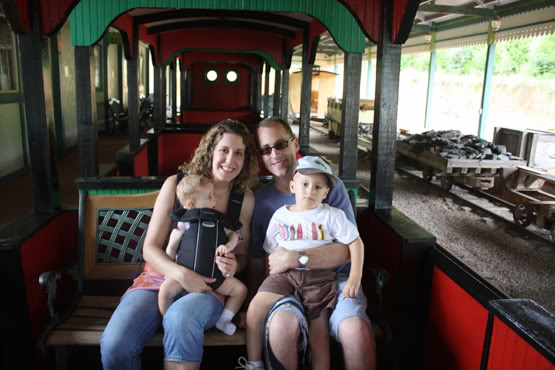 Here we are on the train… Nathan had a blast, and Autumn was giggling the entire time, too!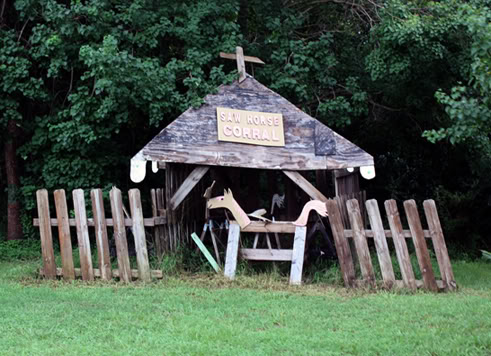 They were starting to set up for their 'haunted' train ride so we saw some of that on the 15-minute ride, but I thought this was cute so I snapped a picture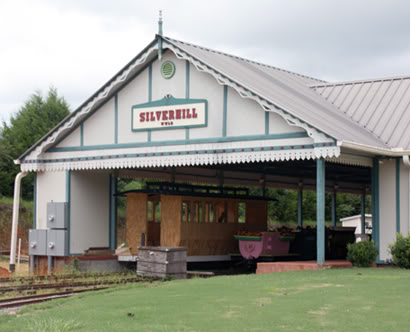 They are getting a lot of things ready for the Thomas lady, such as building this dinng car.
After we visited Wales West Railway, we decided to try the #1 Gulf Shores restaurant on Trip Advisor… and, well, nope, it is't #1 to me. Its better then Red Lobster, but, oh my, King Neptune's (more on that later) is MUCH better.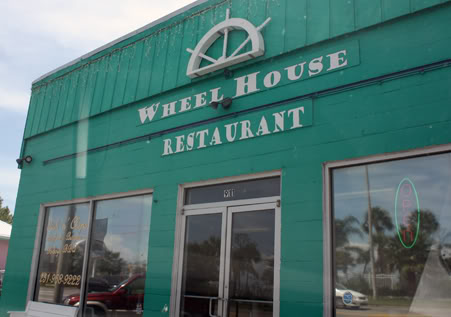 The #1 restaurant in Gulf Shores on Trip Advisor was the Wheelhouse Restaurant.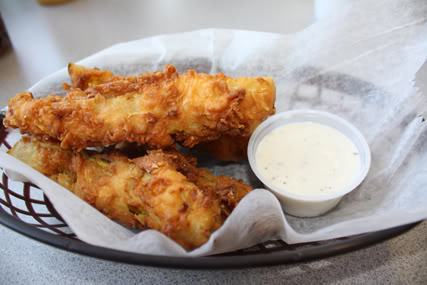 We got fried dill pickles for an appetizer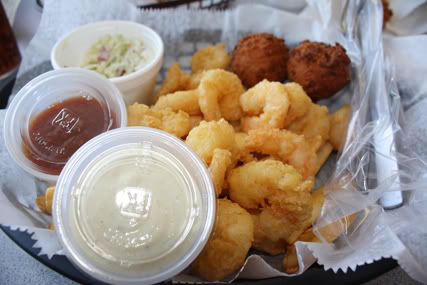 I got a shrimp basket with steak fries, 2 hush puppies and cole slaw.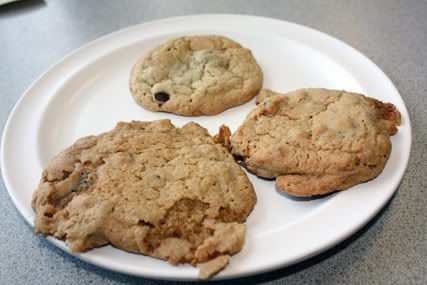 This restaurant also has a few bakery items such as cookies, brownies and pies. We tried the rocky road and chocolate cherry cookies. Yum! All in all, not a bad place, but oh there is just much better here in Gulf Shores!


On the way back to the condo, I couldn't resist taking these two photos… Piggly Wiggly is a grocery store and a store namd Lil Bit (we used to call Autumn 'Little Bit'). I thought my Mom would like to see the Lil Bit picture, since that is what she knicknamed Autumn from day 1.
Yesterday I took so many pictures of Autumn on the beach, so today was Nathan's turn!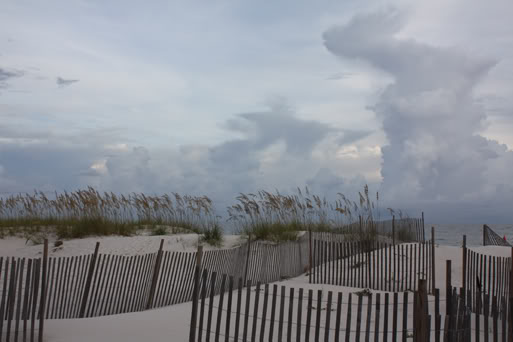 Our walk to the beach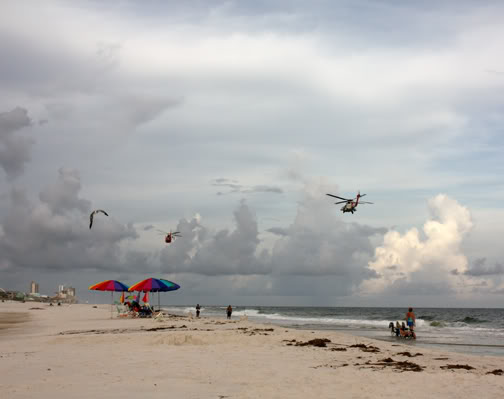 Two helicopters that flew over us, they were really low!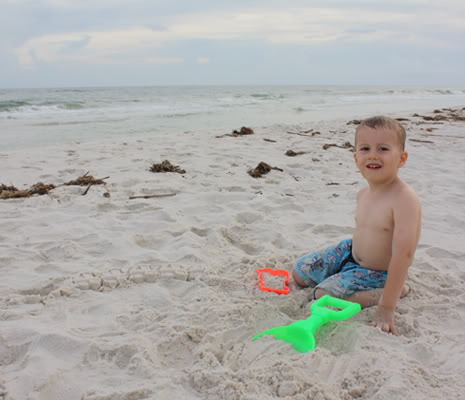 Nathan with his choo-choo train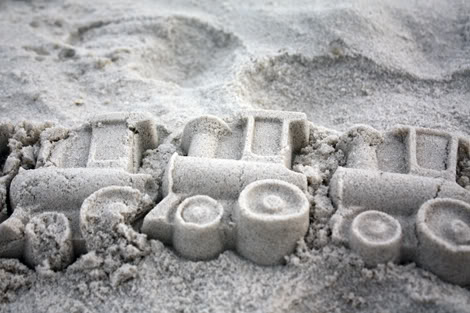 Closeup of the train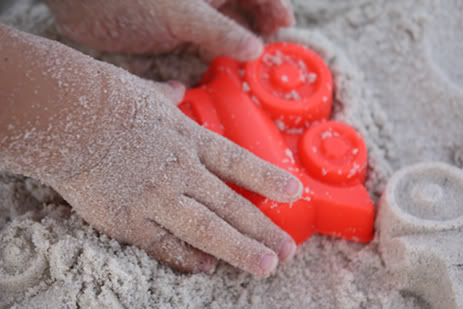 Nathan working on his masterpiece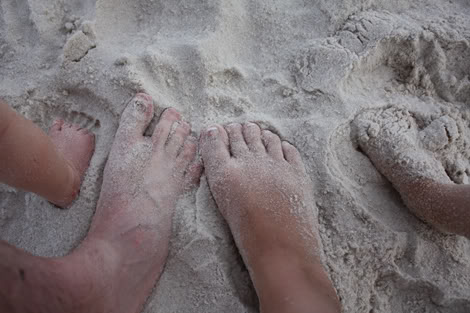 Our feet. I love how tiny Autumn's is!!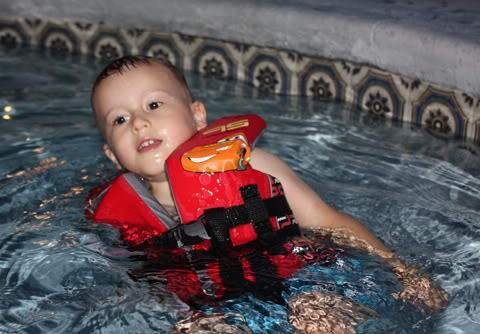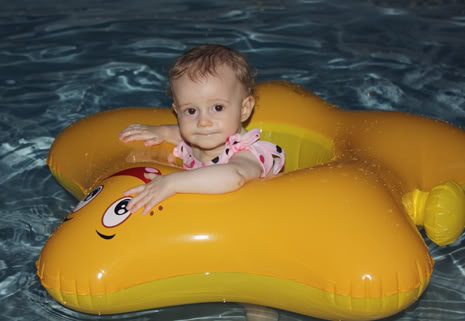 Nathan and Autumn in the pool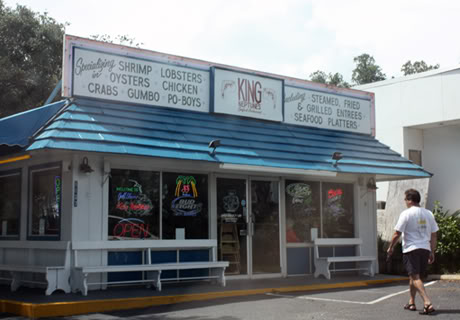 THIS is my favorite seafood restaurant in Gulf Shores, Alabama. Our travel agent suggested it to us when we came here 2 years ago, and you just cannot go wrong at this place. It looks like a hole in the wall, but it is popular and sooo good. I got the pick two platter with HUGE scallops and 6 jumbo shrimp. They were both breaded ever so lightly and the breading was delicious. Both the shrimp and scallops were so fresh and tasty. Under it all I had french fries and 2 hush puppies… YUM!!! Of course, I took this picture earlier in the day because I knew we'd send Jeremi out to get it to go since we have been out at the beach/pool till close to the kids beds times. I ate my meal while holding a sleeping girl so I did not get a picture of it, sorry!
Earn Amazon giftcards by searching the web with Swagbucks!