Well, I was all ready to write about our last day in Gulf Shores last night, but the internet connection was low at the condo, so I am writing about it tonight. We are actually on our way home now and staying overnight in Mississippi.
Our last day in Gulf Shores was a rainy one, so we did a lot of indoor things… which was still FUN!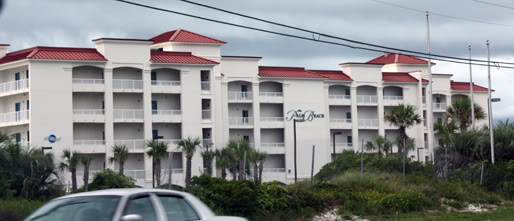 I got a photo of the condo complex in Orange Beach (Palm Beach) that we stayed in 2 years ago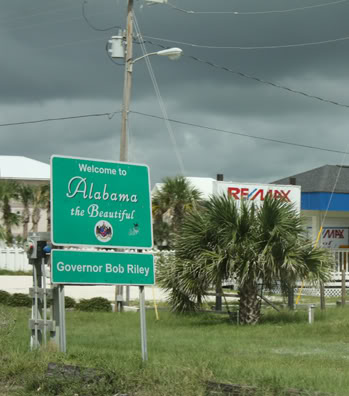 I got a picture of the Alabama sign (we were in Florida just briefly)- see the storm clouds?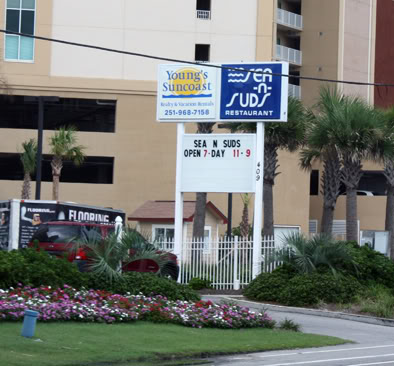 First, we had lunch at this restaurant on the beach called SeaNSuds. It is actually behind one of the condo complexes, so you have to park across the street. Jeremi dropped me and the kids off so that we didn't have to get too wet while he parked the car.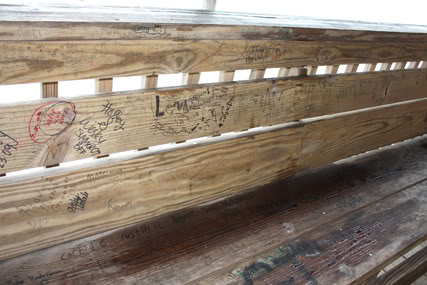 There is a long wooden bench outside the restaurant with lots of initials and names on it.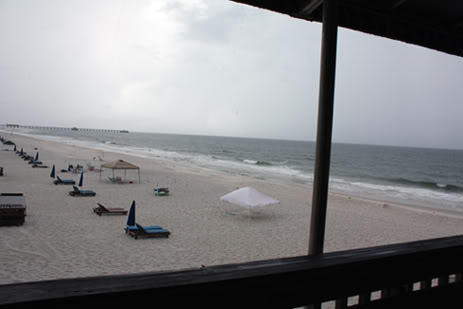 View from inside the restaurant. I just ordered a hamburger, but I got their salad bar with it. Their salad bar was really fresh and had a lot of different toppings. Yum! My hamburger had a great juicy red tomato on it. We also got a free cup of Gumbo (coupon on their website) but I didn't eat any of it. I don't think I'd like Gumbo… but, my husband enjoyed it! While we were leaving I was cleaning up the mess under the table from Autumn, and the manager came over and told me to leave it, that it was their job to clean it. I thought that was really nice!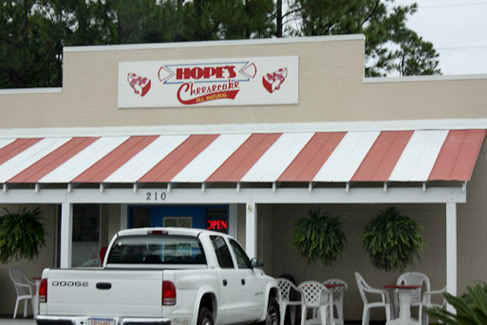 Then, we had sweet tooths so we decided to check out the popular cheesecake place in Gulf Shores which is Hope's Cheesecake. Inside they have a huge map and you take a pin and place it where you are from.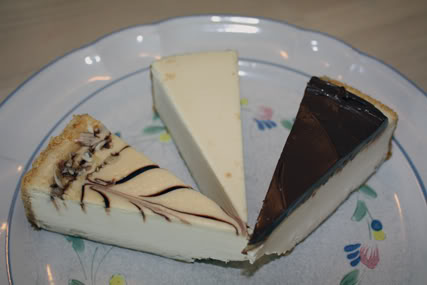 We tried the chocolate kahlua, key lime and turtle cheesecakes. Delicious! They were a tad bit frozen, though, but once they thawed out at our condo they were even better.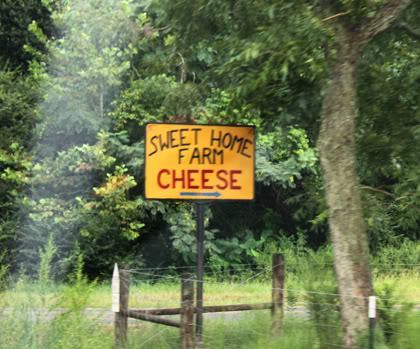 It was still raining off and on, so we decided to go see the Sweet Home Cheese Farm. I was not really sure what to expect because it does not say much on their website, but I did see a few small reviews about the place online. We decided to check it out because BOTH kids were asleep in the car, and it was a 28 minute drive from Gulf Shores down 59. It was really easy to find in a small town in Alabama called Elberta…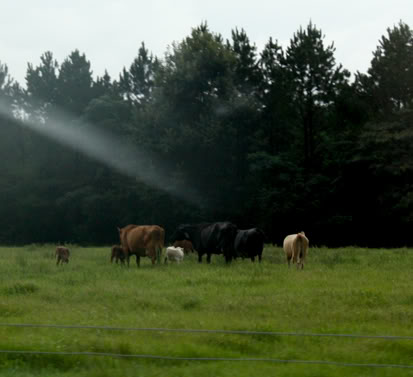 As soon as we got to the farm, we saw all of the cows with their babies… awww! I wish Nathan had been awake to see it, but I wasn't about to wake him either ;o)-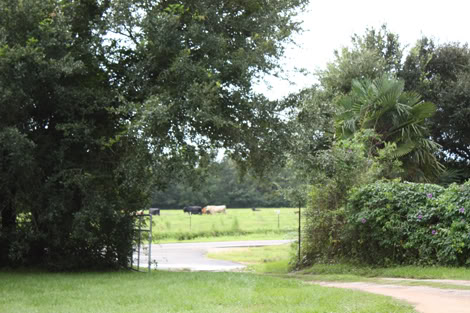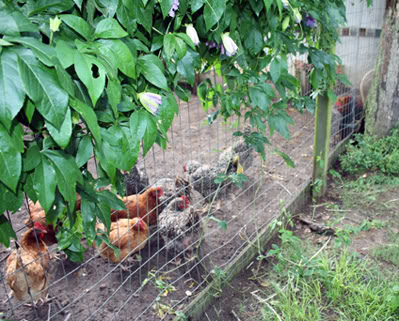 Just some more pictures of the farm… You don't get to take a tour, you mainly just see the cattle.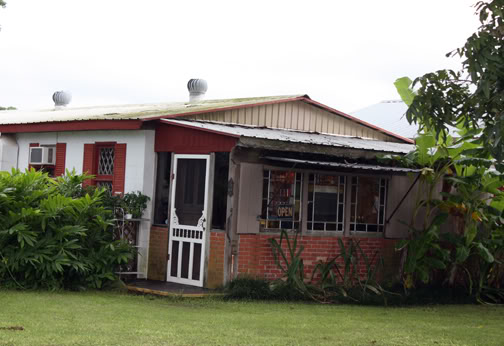 This is building that you go inside to get your cheese, and it does look a little 'hole in the wallish', but it was small but nice and clean inside. There was two ladies inside and there was a huge counter with different cheeses that they made on the farm with just the cattle that you saw outside. They let me sample almost all of the cheeses, encouraged me to… it was so much fun! There were two other customers in there sampling the cheeses as well… YUM! Jeremi and I took turns going in since one of us had to stay in the car with the sleeping babes… They are only open Fridays and Saturdays from 10-5pm, so we lucked out that it was Friday!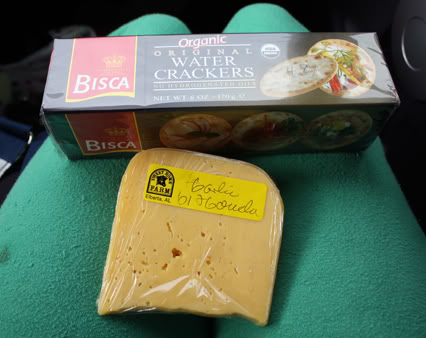 I got crackers and garlic gouda (gouda is my favorite cheese!)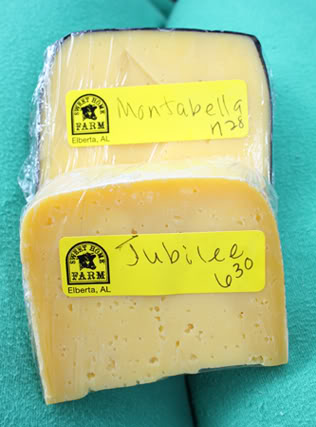 Jeremi got Montabella and Jubilee – can you tell we are cheeseaholics? They gave us a plastic knife and we couldn't wait till we got back to the condo, we ate some cheese and crackers while the kids slept.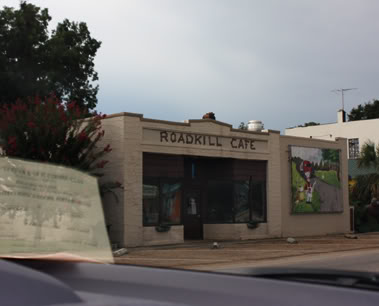 We saw this 'Roadkill Cafe' on our way out of Elberta, and I just had to take a picture of it. Ew!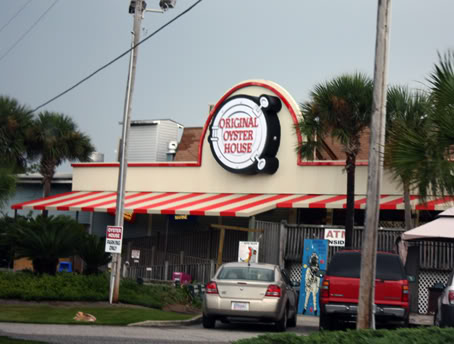 Then, we decided to have our last dinner at the Oyster Company, which several people that had stayed in our condo had raved about in the 'Guest book' that is in our condo. Oh my, it was AWESOME, by far the best atmosphere, kid-friendly, service and food (and in no particular order), plus it was only 8 minutes from our hotel. We went at 5pm and they got us right in, but when we left there was a huge line, so go for an early dinner… there are so many cute boutique and tourist shops you can browse before or after eating that are clustered around the restaurant.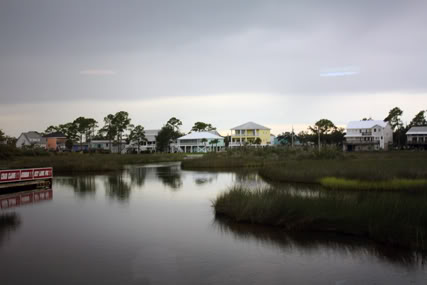 Like LuLu's, this restaurant is on the marina and the view from our table was breathtaking… Nathan saw fish jumping out of the water, he loved it…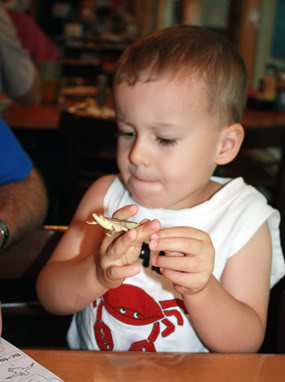 The waitress we had was so nice and brought the kids out mini alligators.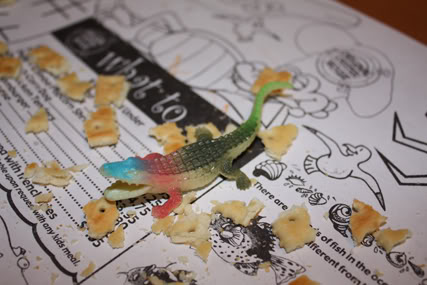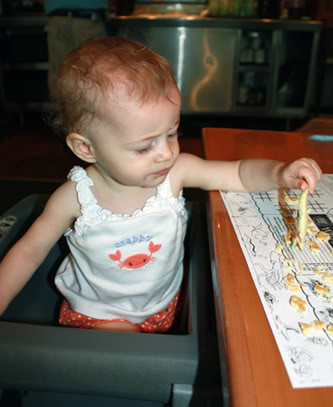 Even Autumn enjoyed playing with her alligator.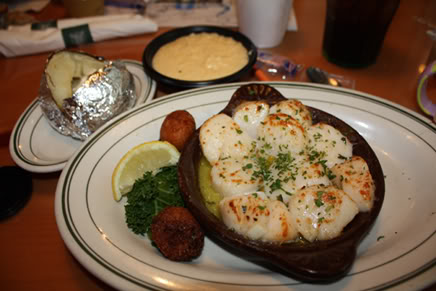 I got jumbo scallops in a lemon butter sauce with baked potato and cheesey grits. They also had an AMAZING salad bar offered as a side for $2 extra…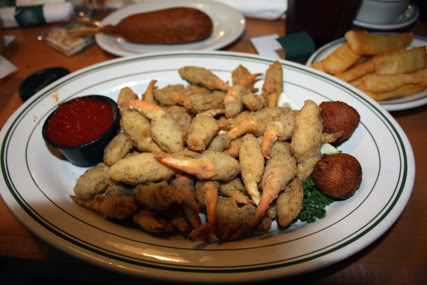 Jeremi loves these claw things, you eat just the meat– ew!! Not for me!!
Anyway, that is it… and like I said, we are half way home tonight and will be home tomorrow.
Earn Amazon giftcards by searching the web with Swagbucks!