This morning we had a late breakfast/lunch at Notch Top Bakery and Cafe upon Mel's recommendation and what a wonderful meal we had! Jeremi and the kids had breakfast and I had a BLT with sweet potato fries. Yum, yum! It was only 2 minutes from our cottage, too! I want to try to go back tomorrow before we leave for Denver to get one of the large apricot or raspberry bars with streusel on top! I would hate to miss out on those!! Thanks, Mel for the recommendation!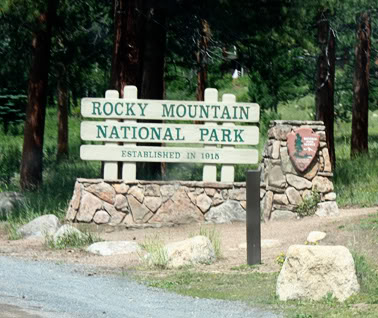 It has been almost 10 years since I have visited the Rocky Mountain National park, and let me say… its been 10 years too long. We decided to drive up the Trail Ridge Road and also visit Bear Lake, both of which we did 10 years ago! I think next time I am back I would like to do some hiking (once the kids are older) and see some of the other lakes that some of the park rangers suggested.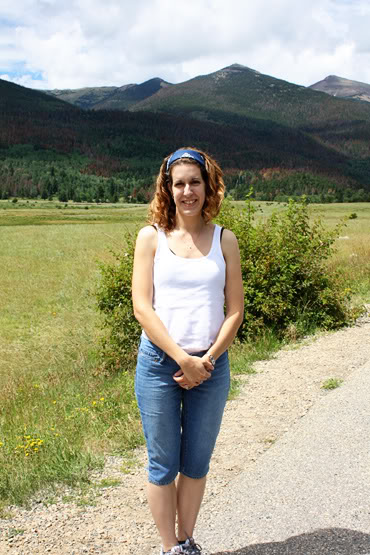 Trail Ridge Road is a popular road that you can drive up to the top of a mountain in the park, and there is a travel center at the top. There are several stops along the way on Trail Ridge, where you can get out and see breathtaking views of the mountains and get some wonderful photos. Here I am at the first stop 🙂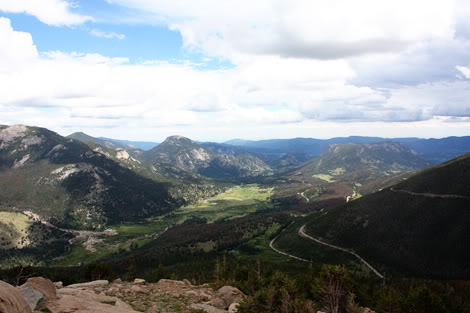 You can see part of Trail Ridge Road in this photo…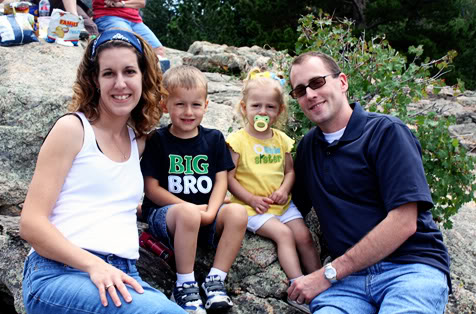 At our second stop, we got a wonderful family picture! Can you believe it, EVERYONE (meaning the kids) is looking at the camera!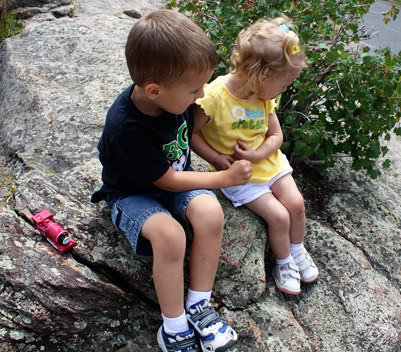 I told Nathan to hold onto Sissy tight so she didn't fall down the mountains. Lol! I think he took me a little too seriously!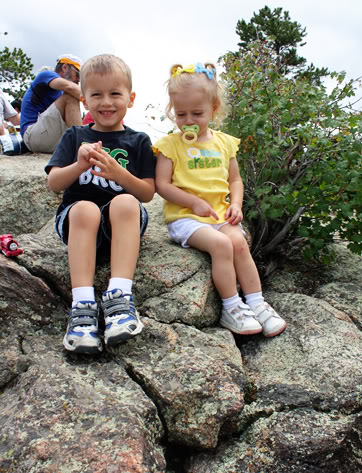 Here is a cute picture of the kids together, except Autumn is looking down because she sees the cute squirrel.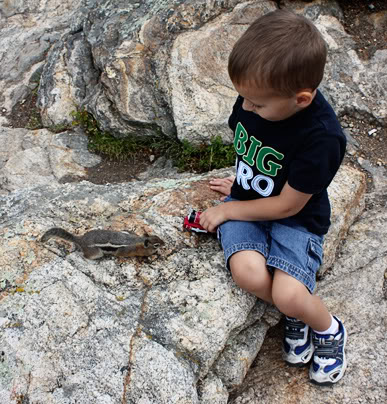 There was this friendly little squirrel that would come right up to you!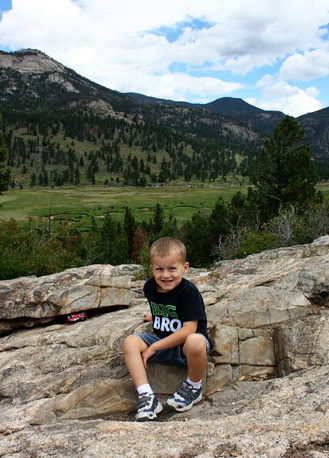 Nathan loved the mountains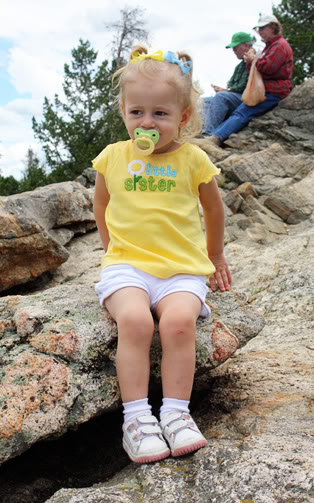 Autumn sitting by herself. She just loved the squirrel… there were some other little smaller critters skittering around, but I am not sure what they were.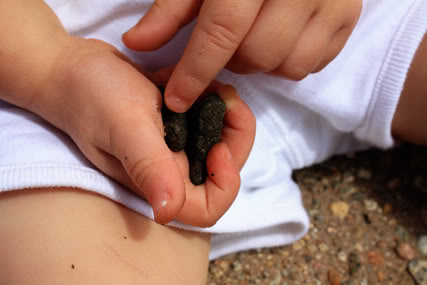 Autumn loves rocks and pebbles right now.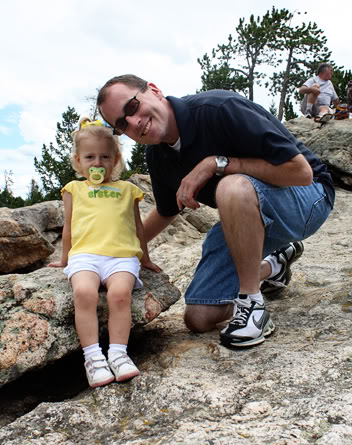 Jeremi and Miss Auttie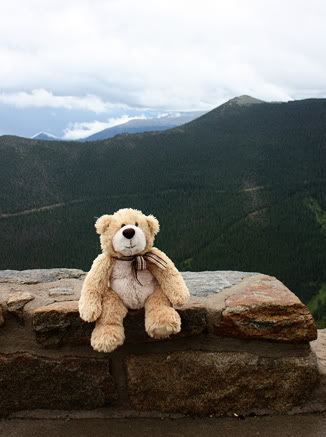 At another stop, we had Harold the Bear get out first, so that he could keep an eye out for bears. I was a little nervous about sitting him on that wall, because… right behind it was a steep drop off. I didn't want to lose Harold! I told Jeremi I would send him after Harold if he fell, but he just shook his head at me. LOL. Anyway, Harold has done a good job at protecting us, and its a good thing… because, Mommy forgot the BEAR mace!!! OOPS!!!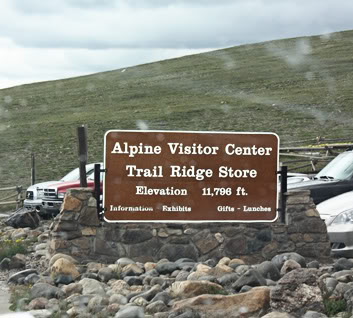 After a little over an hour, we are at the top! Yay!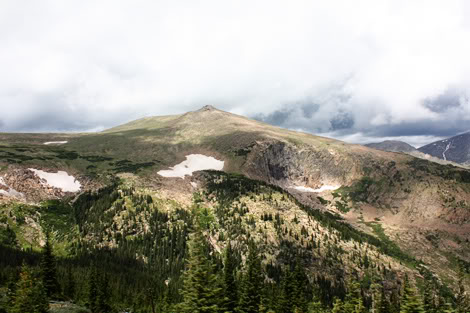 What an amazing view!
After Trail Ridge Road, we took an hour long drive over to Bear Lake… it started to rain, but luckily it only rained for about 5 minutes upon our arrival to the lake. I remembered Bear Lake vividly as this beautiful lake with a mirror reflection of the mountains, trees and clouds in the water. However, NOT so much on a cloudy day! Luckily, the clouds cleared quickly and it was sunny again and I saw my favorite lake in all of its glory again! :o)-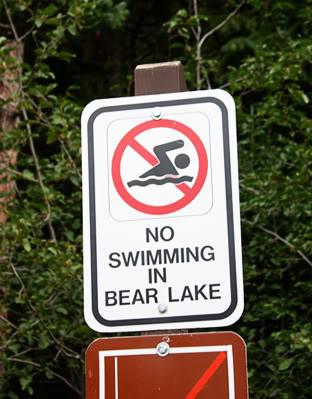 Love this sign. 🙂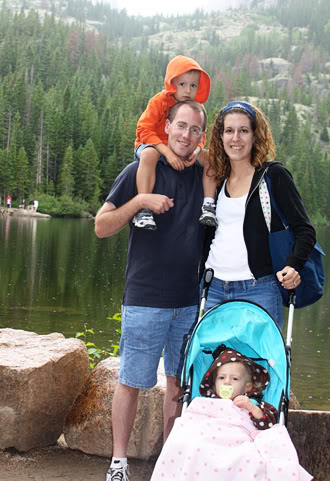 Here we all are at the lake! It is raining in this picture so you can see the lake is just a dark green color behind us…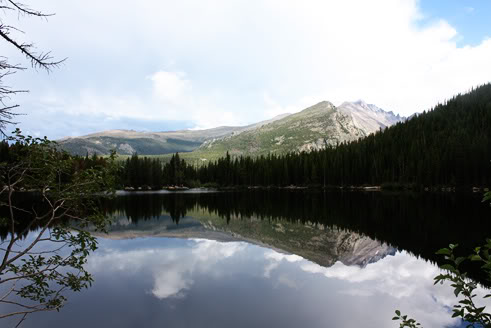 And, here is how beautiful the lake is when the sun is not covered by thick clouds! I love Bear Lake…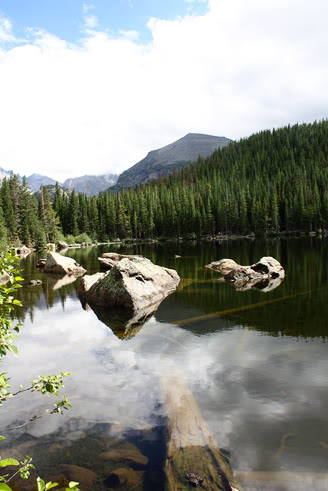 There is a smooth trail (stroller accessible!) all the way around Bear Lake, so we took a walk. This is one of my favorite spots, I love the massive rocks. Nathan of course asked me if we were to stand on the rocks, if our weight would sink them… or when will those massive rocks in the lake sink? I love 4 year old questions!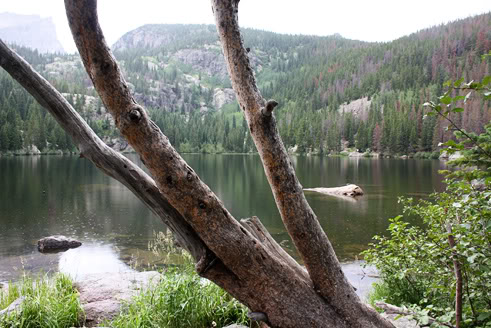 More of Bear Lake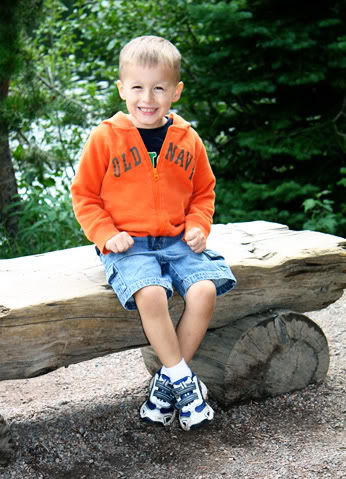 Nathan had to sit on EVERY bench… EVERY single one. There was quite a lot of them.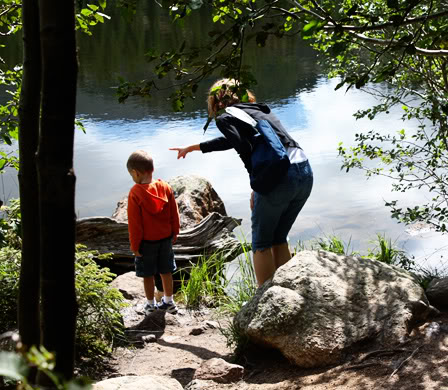 Nathan and I, looking at the water up close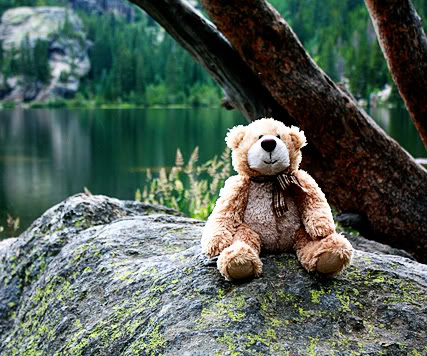 And, what is Bear Lake, without Harold to guard it from all of the thirsty bad bears. ;o)- By the way… that reminds me. You should have seen the trash bins outside the lake. They were definitely BEAR proof! LOL! I mean seriously! They self-locked and were quite strong.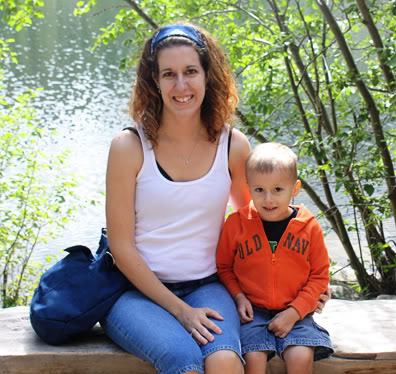 Me and my boy that keeps growing on me!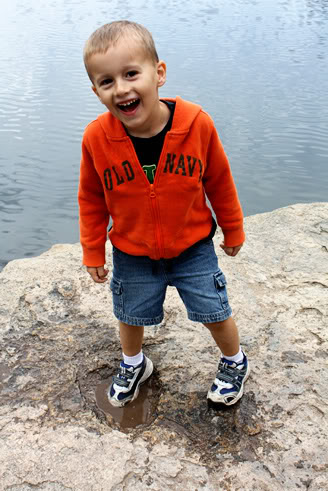 Nathan loved this one rock that stretched out over the water a bit, and the rock had small pits in it where water had collected. Nathan had to stomp his shoe in each hole, just so he could splash water everywhere. Boys!
Then, after we exited Bear Lake, Nathan had to use the bathroom. Nathan got his first outhouse experience. The bathrooms looked like porta pottys, but… nope, it was just a big hole in the ground! Nathan couldn't get over that! Sigh… 4 year olds. Fascinated by the oddest things. Yes, we had to hear about it ALLLLL the way from Bear Lake back to our cottage.
I wish we had another day in Estes Park, but tomorrow we are headed to Denver! And, I am meeting up with Janna from Babycenter at the Aquarium Restaurant for lunch!