Last night I took the kids to Tilles park off of McKnight for the first time to see the outdoor Christmas light display. I am really glad we went on a Wednesday night, because there was NO line whatsoever to get into the place. The lights were spectacular… they had something for everyone. and they even had a train filled with presents for Nathan and Autumn loved the lake made of lights complete with ducks. Everytime I would point out something to the kids, Nathan would say, "I SEE IT!", than Autumn would chime in right away and say, "I SEE! I SEE!" She just LOVES to mimic Big Bro now… so precious.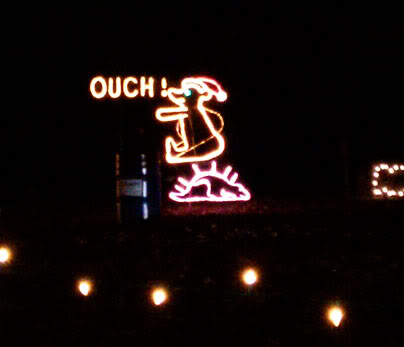 What was Momma's favorite part of the light display? Oh, I enjoyed all of the lights. But, this one stood out to me. It seemed a little out of place. What do you think? A bear getting a boo-boo from a porcupine? I thought it was quite silly 🙂 And, I never knew that porcupines came out at Christmas :o)-
The kids enjoyed the light display SO much, that they convinced me to drive through it a second time! What fun!