It is Week 4 of the Curb Appeal Blog Hop! This week I am sharing some new porch decor c/o the At Home store.

You can see what I accomplished on the first 3 weeks of this party at the bottom of this post, where I have the posts linked.



Decorating is always my favorite part of a refresh on any area of our home. I spent about 2-3 hours at the At Home store, browsing EVERY single aisle to see what would work in our home on the front porch and to familiarize myself with the store.




Upon entering the store I saw this GORGEOUS display and all of the colors match my patio area! However, I was shopping for my front porch… but, it was still fun to look at everything they had displayed in this area.




I found a lot of great items at the At Home store and I probably could have filled my cart to the rim…there is just so many great items in their store for your home! You'll see in this photo above that I purchased a 'Home Sweet Home' 2-shelf wooden easel, some knick knacks for the easel, a gold lantern and an accent rug to place in front of our bench. At Home had a lot of great cushions for benches, chairs, etc. at affordable prices and now I wish I had purchased my new bench cushion from them. I am still waiting on the new bench cushion that I ordered online, so you still see our old (slightly moldy- ugh) cushion above. At Home also sells a lot of great pillows (the selection is HUGE!), but the pillow are still in good shape on our bench… however, I will be sharing a change up on the pillows in next weeks Curb Appeal post (stay tuned!).



Another view of the porch- the 2-shelf wooden easel really adds some visual interest to the porch.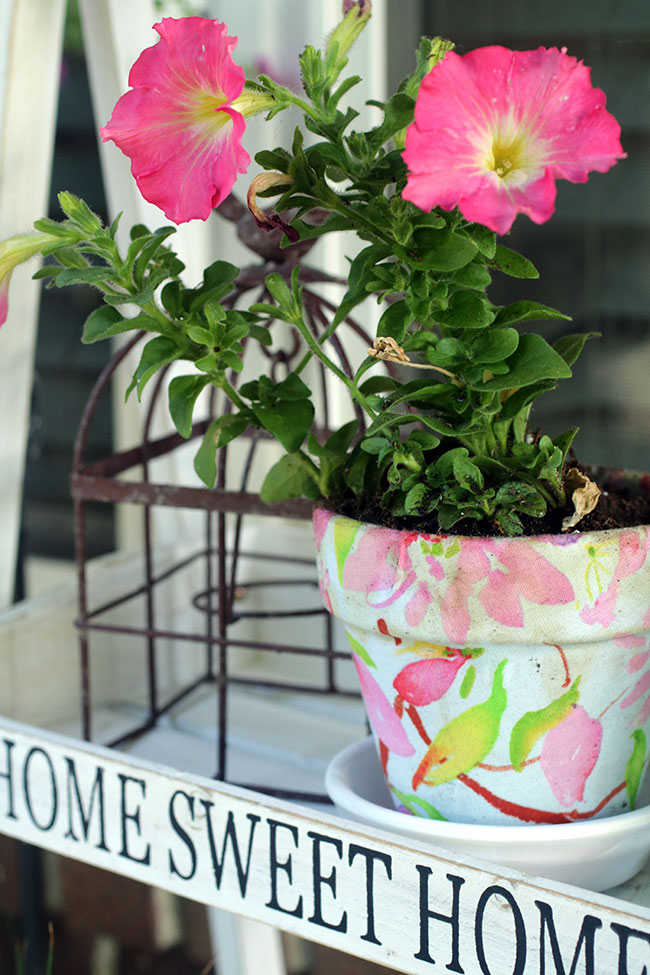 Here is what the front porch looks like currently. I have a few items I want to wrap up (hopefully) by the last week, such as refresh the pillows on the bench, replace the bench cover with the new one I ordered, tear out the dying bush and replace with a new one and find a thinner wreath (or DIY one) for the front door. We will also have a GIVEAWAY for a Paypal gift card to wrap up the Curb Appeal Blog Hop, so be sure to stop by next week!

Links to Previous Posts:
Week 1: Before Photos & Ideas
Week 2: Door and Bench Touch Up
Week 3: Lighting Refresh with Lamps Plus

Please be sure to stop by my friends' blogs to check out what they plan for the curb appeal projects. Also, stop by next week to see what I've completed for the third part of my project!
If you are looking for some home decor items for your front porch or home, be sure to visit your local At Home store!
F
ull Disclosure: This is a sponsored post. At Home let me select items at their store in exchange for this post. All opinions are 100% mine.

I also wanted to mention that it is Sample Tuesday again!
You can receive a PINCHme box for FREE! Click HERE to fill out a questionnaire that will find the best samples for you. On sample Tuesday (one Tuesday a month) you can select which samples you'd like to receive. Sample Tuesday is TODAY at noon (ET)! No credit card is needed, it is FREE… all they ask is for your opinions and thoughts on the samples they send you.