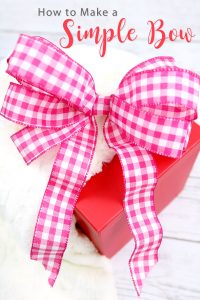 Today I'll be sharing some simple step by step (and photo by photo) instructions on how to make a simple bow. This bow is so versatile and you can use it for wreaths, accent decor, gift packaging and I even use this style for bows I put all around the house that match the bow on my Christmas tree. I hope I make bow making easier for you after you read this post!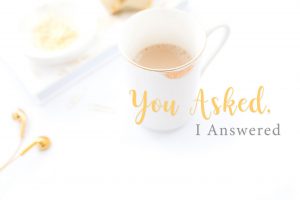 I've decided to start a series this year called You Asked, I Answered. This fun series will cover topics that I've had blog readers ask me to answer. One post that you have been asking for me to share is how I make my bows. This came up after I did my 12 Months of Wreaths series and I've been meaning to write it up… but, didn't get a chance to do it until now! I also have a whole list in my Notepad where I've jotted down questions you've had for me and that you've been wanting me to answer. I figure, if so many of you are asking me the SAME questions, it would be easier to answer it in a post AND I am sure others are wanting to know the same thing! 
If there is anything you would like to see me write a post about this year, be sure to leave it in the comments. I'd love to add it to my list of topics for this series.
Let's get started with How to Make a Simple Bow: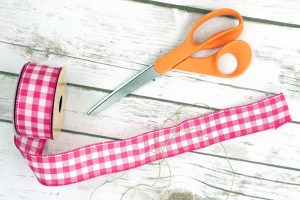 You'll need Wire Edge Ribbon, Fabric Scissors (or just a pair of scissors that isn't dull) and some Thin String. You'll also need a Hot Glue Gun (not pictured).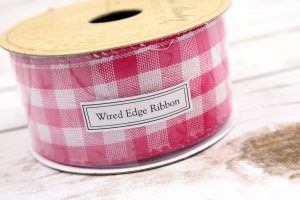 I almost ALWAYS buy wired edge ribbon. Why? Because, it gives you a lot more control over how your bow looks and it is SO much easier to handle. You can still follow these instructions if your ribbon doesn't have a wired edge, though.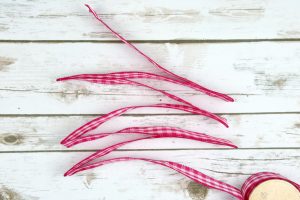 Take your ribbon and fold it back and forth, so you have 4 sections. If you want a fuller bow, you can do more sections. Cut the ribbon off from the spool.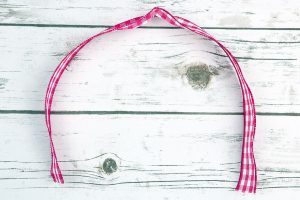 Next you'll cut a piece from your spool of ribbon to make the 'tails' of your bow. This can be as long as you want it to be… you can have short, medium or really long tails!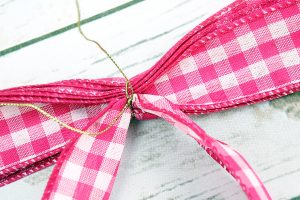 Next take your thin string and tie it around the middle of your bow. If you don't put tails on your bow, tie the bow by itself… otherwise, tie the tails in with it. If you're planning on hanging your bow, you'll want to leave the excess string, so you can use it to tie your bow onto something.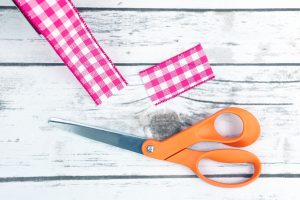 Cut a little piece of ribbon off, you will use this to wrap around the middle of the bow to give it a more complete look.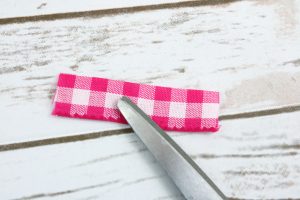 Fold this little piece of ribbon in half.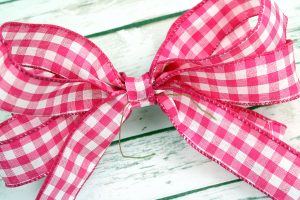 Wrap this short piece of ribbon around the center of your bow and hot glue it on the back to secure.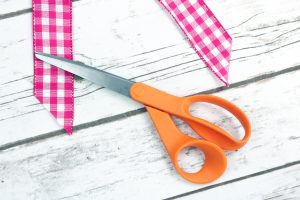 Snip the ends of your ribbon tails to give them a fancier look.
Fluff up the bow a bit, such as on the loops and tails and you'll have yourself a pretty bow to use for whatever fancies you!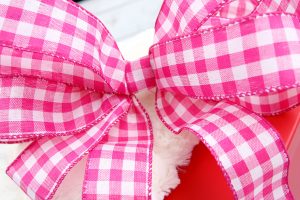 Here is a close up of the bow. I hope you enjoyed this tutorial and let me know if you have any questions! I'm really excited about next months theme, so stay tuned!
SaveSave
SaveSave
SaveSave
SaveSave
SaveSave
SaveSave
SaveSave
SaveSave
SaveSave
SaveSave
SaveSave
SaveSave
SaveSave
SaveSave
SaveSave