Welcome to Thursday Fashion Files!
Welcome to Thursday Fashion Files with Carrie at 

Curly Crafty Mom

! I'm excited to have you here and would love to have you link up one of your latest outfits at the bottom of this post.
I will be taking occasional Co-Hosts for Thursday Fashion Files, if you are interested you can email me at carrie (at) curlycraftymom (dot) com to set up a date.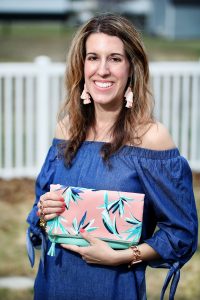 I just received my seventh FabFitFun box and seriously, I always say to myself that this is my most favorite box yet. They gone done it again. I just loved the fringe earrings and clutch they sent me, so much that of course I had to pull together a whole outfit to wear with them. 🙂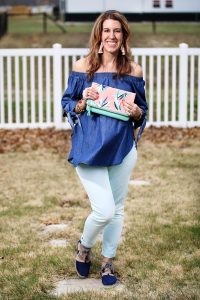 Here is the entire outfit if you're interested! I'm wearing an OTS denim top, mint denim and my fun navy lace up espadrilles.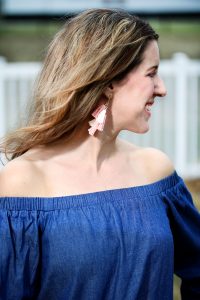 These are going to be the perfect Spring/Summer earrings!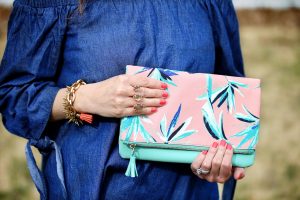 And, they go perfectly with this fold over clutch! Now, let's talk about EVERYTHING that is inside the box…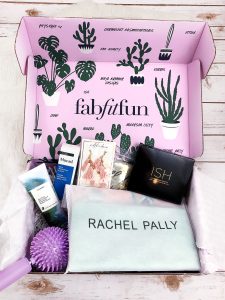 This is the only subscription box I have going right now and it is plenty! I receive a box every season and it is packed full of a variety of items, such as jewelry, makeup, stationary, home decor, apparel, etc. The box is $49.99 each quarter, but you can save 20% on it today using my code HERE. I just signed up for the yearly membership, that way I can have more control over what colors, etc. they send me.
Goodies Inside 2018 Spring FabFitFun Box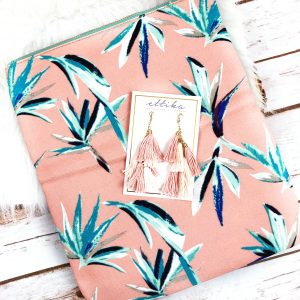 So, as I said… my absolute favorite items that came are this clutch and the fun fringe earrings.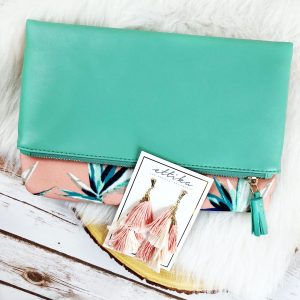 This clutch can be folded a different way to show more of the solid color. I think I like it best folded with the pattern showing, though.
Rachel Pally Reversible Clutch in Paradise  – $60.00
I always love having a variety of clothes to choose from in my closet to complete a look. I know this one will be popular this Spring/Summer, since I have a lot of pink, coral and mint in my closet!
Ettika Day Dreamer Tassel Earrings – $58.00
I've been wanting some statement earrings with fringe and I was so excited to receive these in my box. They'll be fun to wear with a glam look and also with just a simple t-shirt and jeans.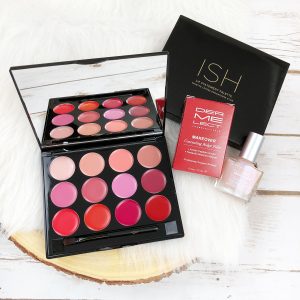 ISH Lip Statement Palette – $42.00
I was so excited to receive this lip palette. There are some bold colors and some muted colors in it as well, such a nice mix! And, they're all Spring/Summer shades! You can also mix and match the shades. I am wearing one of the pink colors in my photos at the top of this post.

Dermelect Cosmeceuticals Makeover Concealing Ridge Filler – $18.00
This nail treatment provides your nails with protein, vitamins and moisture while also hiding any imperfections.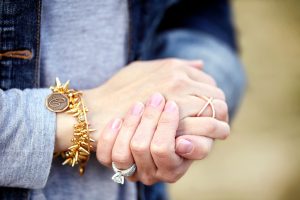 Here is the Dermelect Cosmeceuticals Makeover Concealing Ridge Filler on my nails by itself. I really love how smooth it makes my nails and the color is great! It is pretty durable and didn't chip for several days.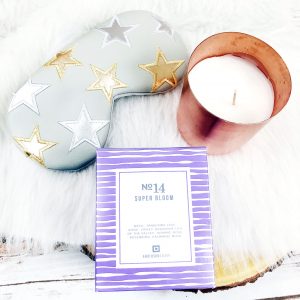 Free People x Understated Leather Starry Eyed Travel Eye Mask – $40.00
I have never been one to use an eye mask, but I may need to start! I love the trendy metallic star pattern and it has a removable gel pack and adjustable strap.
Anderson Lilley Sunset Collection Candle in Super Bloom – $45.00
My favorite part about this candle (besides the wonderful scent!) is the copper vessel! This candle is made with hand poured coconut wax with a cotton and lead-free wick.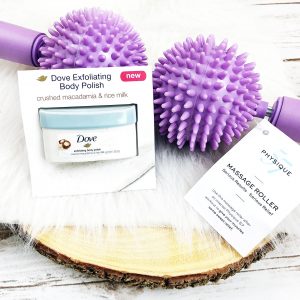 Physique 58 Massage Roller – $20.00
I really need to find someone to rub my back with this massage roller! 
Dove Exfoliating Body Polish – No Price, Trial Size
This was a trial size and only enough for one shower, but I really loved it! I think it'll be great for exfoliating my skin, especially to get it Spring/Summer ready. It also smelled really, really good! It was super creamy yet worked wonders at exfoliating my skin!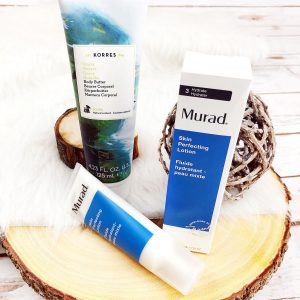 KORRES Guava Body Butter – $24.00
Ok, this seriously smells SO good! It really works on smoothing my skin and I love that it also improves your skin's elasticity!
Murad Skin Perfecting Lotion – $40
I really love this lotion and it has been working great for me in the morning. It's ultra-light and oil free, so it goes on great under makeup! It also reduces the appearance of my pores and gives my skin a flawless texture. It also has 5 stars on it's site from over 500 reviewers, so it must be good stuff!
Total Retail Value of Box: $347.00!! Isn't that amazing?!
I was really, really pleased with ALL of the items in this box! I will definitely continue this subscription! I am always see excited when it arrives. To find out more about FabFitFun, click HERE.
*Affiliate Links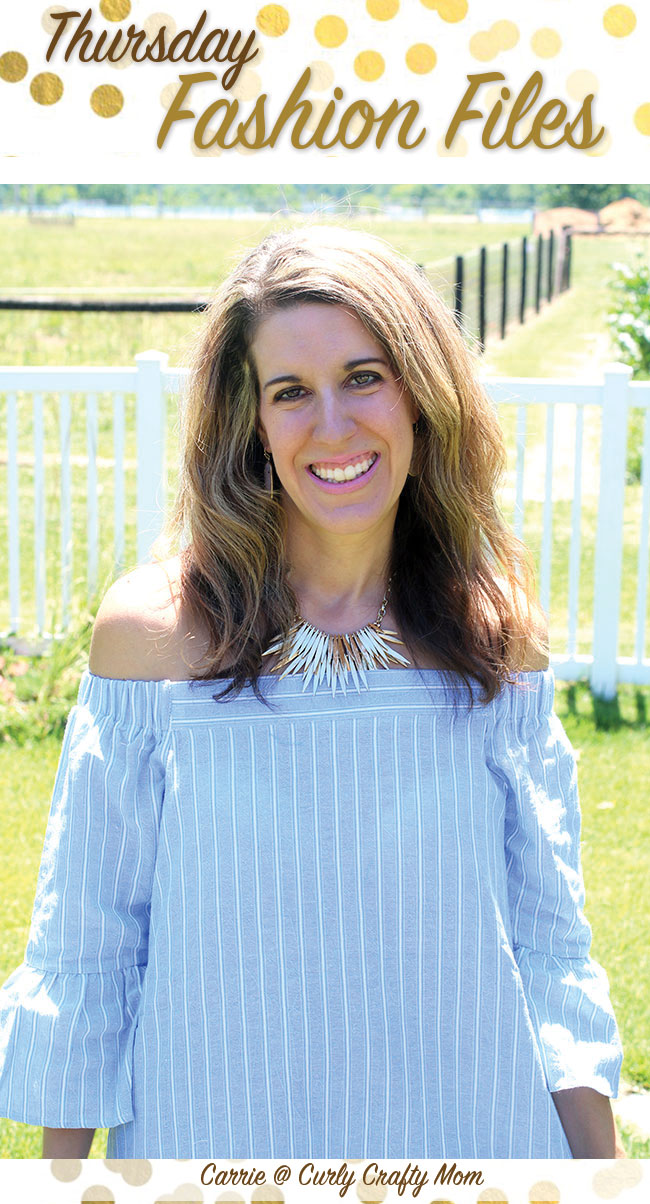 Link Up Guidelines:
1. Feel free to grab our button to display on your blog sidebar. Help spread the word and share about our link up community.
2. **By adding your links, you are stating that you have the proper licensing/rights to the images in your blog posts.** 
3.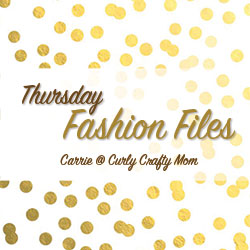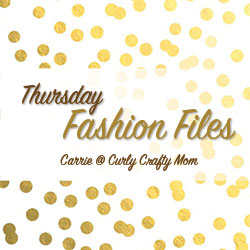 This Week's Co-Host: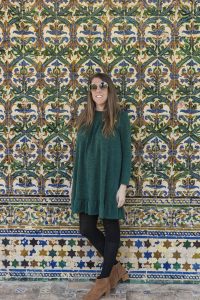 This week's Co-Host is Nina from A World of Dresses.
SaveSave
SaveSave
SaveSave
SaveSave
SaveSave
SaveSave
SaveSave
SaveSaveSaveSave
SaveSave
SaveSave
SaveSave
SaveSave
SaveSave
SaveSave
SaveSave
SaveSave
SaveSave
SaveSave
SaveSave
SaveSave
SaveSave
SaveSave
SaveSave
SaveSave
SaveSave
SaveSave
SaveSave
SaveSave
SaveSave
SaveSave
SaveSave