Happy Friday Everyone!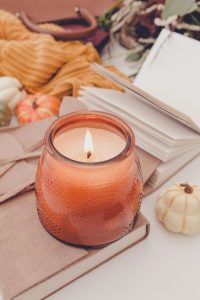 This week has felt SO long! Anyone else? I am so happy it is Friday! We don't have a lot planned this weekend, but I am looking forward to getting a Fall Stitch Fix box (sharing on Thursday!) later today AND I'm getting my hair done on Saturday! May enjoy a couple of iced #PSL's, too! We are supposed to get some nice Fall weather starting this weekend. I'm beyond thrilled! I'm so over the hot and humid weather that we've had for over a week now! I hope all of you have some fun plans for this weekend and also get a little bit of relaxation in! 
One – 2 Tier Metal Shelf LOVE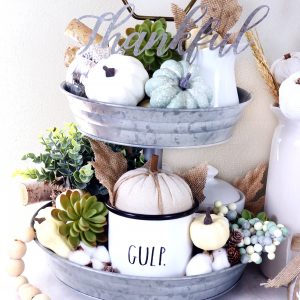 Shop this Post:

Earlier this week, I shared my Fall Decorated Serving Area in our newly renovated kitchen. One of my favorite items I purchased for the serving area was this 2 tier metal shelf, which I found on Amazon! It's made by Better Homes & Gardens and the quality of it is top notch and both levels of it spin (the bottom one is on a little turn table). I can't wait to decorate this from season to season.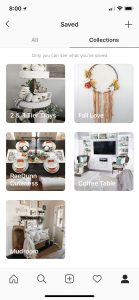 I started a 'Collection' on Instagram of 2 & 3 Tier Trays/Shelves. I'm addicted. You'll see that I've started a collection folder for Rae Dunn items. My new obsessions! 🙂 Does anyone else do Collections on Instagram? Am I the only one? I just started!
Two – Reading & Crazy Rich Asians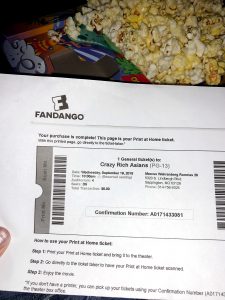 Shop this Post:

Everyone kept telling me how good the 'Crazy Rich Asians' movie was and I knew I wanted to go see it. But, I hate going to see a movie before reading the book and I had this particular book on my 'To Read' list for quite some time. So, I literally spent all of last Friday evening and Saturday reading the entire book! It was SO good! NOT as good as the movie, but good enough that I've already put the second book in my cart to download onto my Kindle soon!
The movie was really good, too… yet, wow. They really skimmed over the characters in it and it didn't follow the book at all in parts… but, I still thoroughly enjoyed it. Besides the whole chick flickness of the book (boy meets girl, become soul mates forever, etc.) I enjoyed learning a little bit about the culture in Asia and the different areas in Asia. I know a lot of it was glamorized, but it was still very interesting and I must say after reading this book I'd love to travel to Singapore and try some of this street food! I also hadn't heard of Macau, which is known as the gambling capital of China (not that I gamble).
If you've read the book AND you've seen the movie, I found this Cosmo article interesting, '23 Differences Between the Book and the Movie'.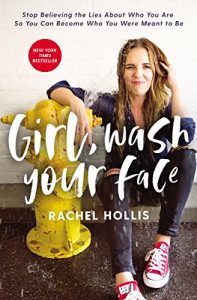 Shop this Post:

Now I've moved onto this book, 'Girl, Wash Your Face'. It's an excellent read so far… I was a little shocked by the 's*x' chapter, though. But, I TOTALLY agreed with it. Sorry to star that word out, not sure if WordPress picks up certain words as being inappropriate on here. This book helps you to build confidence in YOURSELF, something that I always need help with. It helps you sharpen your perspective on life. I love Rachel's writing style, she's very honest and she talks to you almost as if you were having a cup of coffee next to her and you get this feeling about her that she really does care about her readers. I also liked that it has a 'touch' of Christianity. Each chapter starts out with a 'lie' you tell yourself, with a different theme. I can relate to this book SO much. She talks about not waiting to chase your dreams, how she never lets a 'no' stop her from her biggest dreams. I love to read self help books occasionally and this is one that I've truly enjoyed so far. I'm already halfway through the book and I started it a few days ago. I also wanted to mention that she is a blogger.
Three – Nail Color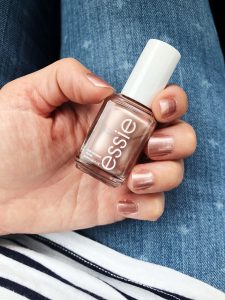 Shop this Post:

Before I went and saw 'Crazy Rich Asians', I stopped into Walgreens to get myself a chocolate marshmallow pumpkin for a little treat during the movie. 🙂 I always like to browse the Essie nail colors and decided upon this 'Buy Me a Cameo' color that reminds me so much of rose gold! SUCH a perfect shade! I shared this photo on my IG Stories and I got so many comments on how much everyone loved this color!
Four – Hello Fresh
If you follow me on IG Stories, you'll know that I took a couple of weeks off (one week off, one week on and then another week off) from the FASTer Way. I got sick and then one of my sweet family members was in the hospital for a few days, with still more tests after leaving the hospital. It was really tough for awhile there, especially with everything else still going on as usual (life never stops, does it?). SO, I decided something had to give and my 5:00 a.m. M-F workouts were what gave. I needed the extra hour of sleep in the morning and I also decided I needed some comfort food and I went off the eating program. I just needed to take care of myself for a bit. But, I'm planning to go back on it on Monday and I feel refreshed and a little more caught up on life. If you know me, I NEVER pass up my workouts, but lately I just couldn't do it. I was too exhausted. I just needed a breather on life.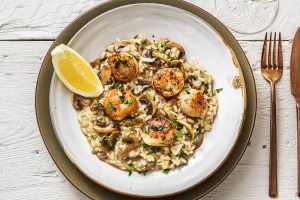 I decided to order Hello Fresh for the next two weeks, sometimes I LOVE Hello Fresh and other times I am not crazy about their menus (or the work involved on preparing them). But, the next two weeks looked good, so I signed up and it'll give me a little break from meal planning. 🙂 Sometimes I get burned out on deciding what to make for the family and my daughter has been SO picky lately. The kids seem to LOVE Hello Fresh when I get it, I think they just like the variety. So, I'm excited to get a box next Tuesday! The meals include all of the nutritional information and usually pretty healthy, depending on what you order. I even ordered some 'all veggie' meals.
The meal pictured above is 'Scallops Over Truffled Mushroom Risotto with a Brown Butter Herb Sauce', which is one of the meals I selected for my second box. Y'all know I love me some scallops! 🙂
You can get $40 off your first Hello Fresh order by clicking HERE.
Five – Halloween Costumes Already?!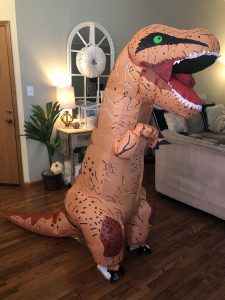 Shop this Post:

The kids got out of school early on Tuesday and I promised them that I'd take them Halloween costume shopping. I always like to do this early, because I feel like the Halloween stores sell out of a lot of the good costumes (and the sizes we need!) and they become an absolute zoo the closer you get to Halloween. My son is usually the indecisive one, but he found this blow up dinosaur costume in only 1 minute. It is HILARIOUS to see him walking around the house in it. The quality is great and it seems very durable so far! It's also A LOT cheaper on Amazon than what I paid for it at the Halloween store (even with the 20% off coupon!). Oh well, lesson learned! 😉
Happy Friday and Weekend!