Happy Friday Everyone!
I really enjoy doing these Friday Five posts, but somehow they dropped off this summer. I think things just got so busy with the kids home from school, all of our trips and the kitchen renovation. Now that the fall is almost here, I'm wanting to get back to doing these every other Friday again. 🙂
One – Amara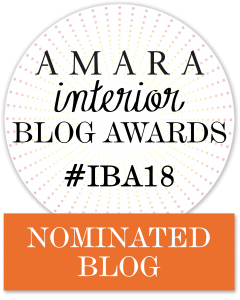 Amara was so sweet to nominate me again for their Interior Blog Awards. I would LOVE for you to vote for me HERE for the Amara Interior Blog Awards (USA Category). Thank you so much! 🙂
Amara Interior Blog Awards is giving away a Leica camera to one lucky voter. When you vote for me HERE, you'll be automatically entered into the giveaway! Find the Terms & Conditions HERE. The winner will be announced on September 26.
I'll be sharing some kitchen items that Amara sent me to decorate my new kitchen serving area next month. I can't wait to reveal my kitchen in the fall! How perfect is that?
Two – Back to School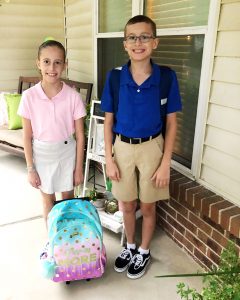 Well, just like that the kids are back in school. I now have a 7th grader (Nathan) and 4th grader (Autumn). I always feel like once we hit July 4th, everyone is already talking about back to school and the end of the summer comes SO, so fast.
It's nice to get back on a regular schedule with school again, but I'll tell you… I'm starting to freak out a little bit. Nathan, in 7th grade this year? That's crazy. I always told myself, I didn't have to worry about him growing up until 7th grade… I think I told myself that, because I knew once 7th grade hit that 8th grade and high school wouldn't be far behind. So, now I'm going to just remind myself ONE day at a time and I still have 2,190 days of him under my wing at home. LOL. And, Autumn? She's getting so big and isn't my little baby girl anymore. It makes me a little sad, but seriously… I always think the beginning of the school year makes me weepy and sad. I think it's like their birthdays. You realize… holy moly, where does time go? Yup. That is how I'm feeling right now.
Three – Birthday Recap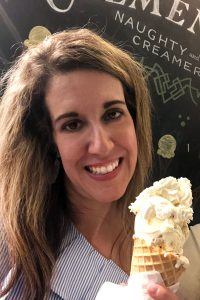 My birthday was on August 10th! I had a great day, except… We had an appointment with Sears to come out to look at our fridge. Our 1.5 year old fridge stopped working the day before my birthday. We were hoping to get it serviced quickly, so decided to have Sear's come out on my birthday. However, we landed up waiting all day and they never showed or called! We even called them and they couldn't tell us what was going on. We finally got a call at 5 p.m. that they had trouble with the truck and couldn't come. Argh! We did have the countertop people out that same day, so we didn't sit around for nothing. But, it still wasn't what I would have preferred doing on my birthday. 😉 Sears finally came out on Monday and we found out it was the compressor that broke. They fixed it (they had to order parts) yesterday (August 23rd). I am just glad we have our garage refrigerator! What a pain! And, so thankful it was still under warranty, but we still had to pay for labor!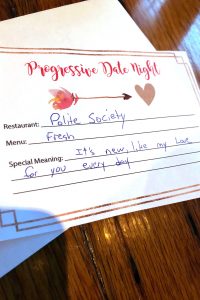 Brian made my birthday so special! He planned a progressive date night for us and even used my Progressive Date Night cards (see post HERE and for a free printable!). We went to a place for cocktails, appetizers and salads, a second place for dinner and a third place for dessert. You'll see me with an ice cream cone that I got from Naughty & Nice Creamery above. They have ice creams with alcohol in them (the naughty!)… I had been wanting to try this place and it was so good! We really had a nice evening and it was so memorable. If you want to see my IG Stories from the evening, I saved them as a Highlight on my IG Profile page, you can watch them HERE.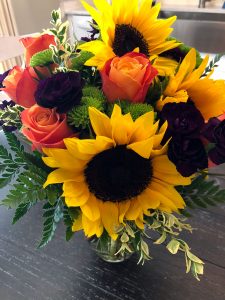 I also got these beautiful flowers from Brian and the kids! I love sunflowers in August. Brian also surprised me with the Dyson hair dryer! I LOVE it!
Four – Macaroon Cooking Class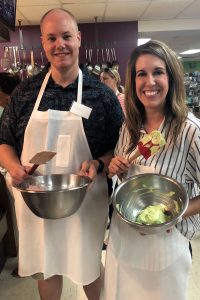 The day after my birthday, Brian and I took a macaroon baking class. It was a lot of fun and WOW we learned A LOT. I would love to try to make these sometime at home… but, you'll need an entire DAY to make these. It would be fun to do on a rainy day sometime. We broke into 4 groups in the class and each group made a different flavored macaroon. We were on the cinnamon team!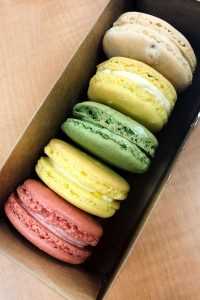 We left with cinnamon, lemon, Biscoff and pistachio macaroons. I ate all 5 cookies that same day. Gosh. I'm bad. LOL. It was my birthday weekend, tho, right?! A girl has got to have her macaroons! 😉 I'm going to make the cooking class a summer tradition from now on!
Five – FASTer Way to Fat Loss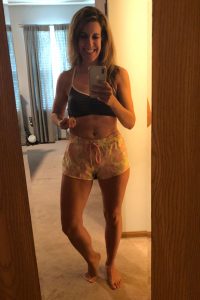 Speaking of macaroons… I've completed 2 rounds (6 weeks each) of the FASTer Way to Fat Loss! I've loved this program and how it has helped me to eat better and tone my abs. 
I will say that, I am proud of myself for finishing round 2 during an entire kitchen remodel this summer and with kids home that love summer treats. I avoided SO many treats and although it was hard, it is all for a HEALTHIER me. However, the FASTer Way does let you incorporate a treat on your regular macro days, so I did enjoy something (like a pastry) on those days.
I landed up taking a week off after I finished round 2, so I could enjoy the last week of summer with my kids and indulge on some sno cones, ice cream, etc. Then, I landed up taking another week off (2 weeks total) when they started school, because I had a blogger event (more on that later) and it was just a crazy week.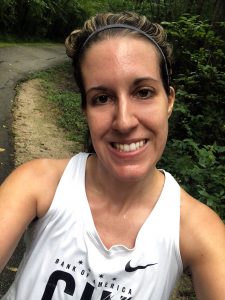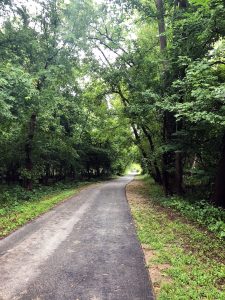 WOW, my body knew I went off the program and I am glad to be back on it this week. I was excited to get outside for a run and did 4 miles and 10 minutes of sprints. It was funny, because I shared an IG Story and several other moms said that they got their first run in that same morning, because their kids were back in school, too! You'll see that I'm sporting my Chicago marathon shirt. Oh, do I miss running with my marathon group, those were some fun runs and conversations 2 years ago!
I'm doing round 3 on my own and then I'd like to check out the VIP group (which you can do after you complete 2 rounds). The VIP group sounds really fun with unique topics each month, different workouts every week and a great FB community. However, it isn't free. 😉 So, I'm just repeating everything from round 2 again, which will put me at 3 rounds of this incredible program! I am thinking I may need to adjust my macros a bit this third round, which actually means I'm burning more energy and I need to eat more!
I'll be sure to update y'all on how Round 3 goes once I finish it! 🙂 And, what my plans are after that.
I hope everyone has a good weekend!
SaveSave
SaveSave
SaveSave